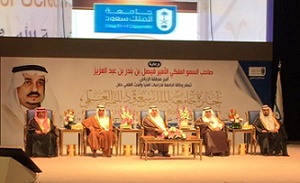 His Royal Highness Prince Faisal bin Bandar bin Abdulaziz, Governor of Riyadh Region presided King Saud University Scientific Excellence Award ceremony for faculty and students.
This was the fourth session of KSU Excellence Award program which was held at the Hamad Al-Jasser Hall in the male university campus.
Ahmed Al-Aameri, KSU Vice Rector for Graduate Studies and Scientific Research, stated: "Honoring the winners of this award annually, aims to encourage scientific excellence, and contributes to achieving the vision of our wise government under the leadership of the Custodian of the Two Holy Mosques King Salman bin Abdulaziz Al Saud, His Highness the Crown Prince, and His Highness the Deputy Crown Prince, may God protect them all".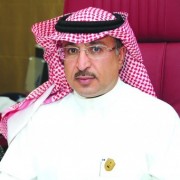 Dr. Al-Aameri also lauded the government's continuous support to scientific and academic competencies to build the Kingdom's knowledge-based economy, and to achieve its development goals.
Further, Dr. Al-Aameri stated in his speech, "Award a means of stimulating the staff of the university to achieve leadership and scientific excellence, pointing out that superiority and meeting the challenges of scientific and cultural competition require the provision of a scientific and research supportive environment. He added that the award program has completed three years since its launch, and has generated a positive impact all through the previous sessions, in terms of increasing scientific production, improving its quality, and creating a scientific competition among researchers vying for the award
Moreover, Dr. Al-Aameri explained seven categories of award covers:
Scientific career, quality and abundance of scientific research, discoveries, innovations, societal research partnership, research excellence for university students and students abroad on scholarship.
In addition,Vice Rector Al-Aameri expressed his gratitude to the Governor of Riyadh Region for accepting to preside over the ceremony, saying that this demonstrates the leadership's concern and support for the talented and the creative as they contribute to achieve the societal and cultural distinction.
Related News
Dr. Muhammad Khurram Khan Wins KSU Research Productivity Award