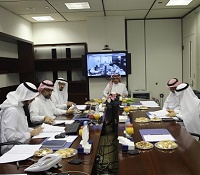 King Saud University Rector Badran Al-Omar, Chairman of university Endowments (Awqaf) Founding Committee, chaired on May 28th (Thursday) for the year 2014-15.
The meeting was held in the conference room at the KSU Endowments headquarters. It was also attended by Vice Rector Abdullah Al-Salman, who is also vice chairman of the committee.
Members of the Committee who attended the meeting were the KSU Vice Rector for projects Abdullah Al-Sugair, Dr. Abdul Rahman bin Hamad Al-Harkan who is a faculty member in the College of Architecture and Planning, Dr. Ziad bin Othman Al-Hugail ho is member of the College of Engineering, and Dr. Abdulhamid Al-Abduljabbar, the Secretary General of KSU Endowments.
Dr. Abduljabbar explained that the meeting discussed a number of topics on its agenda and took appropriate decisions. He welcomed KSU Rector Al-Omar's visit to the headquarters of KSU Endowments and praised his great concern and care for the Endowments Program. Dr. Abduljabbar warmly welcomed also the Vice Rector and the members of the Founding Committee.
Related News