Prof. Ali Al-Ghamdi handing scuta for distinguished researchers of King Saud University as University secured the first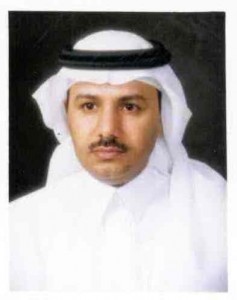 place among Saudi Universities in the number of scholarly papers published in international journals and earned the SCOPUS Prize. Prof Mohammed Al-Qattan of the Department of Surgery, College of Medicine, King Saud University won the first place among cited researchers of all Saudi universities. On Wednesday, the University held a reception to honor its distinguished researchers and scientists and to handout SCOPUS Prizes glorifying their scholarly activities. This ceremony was organized by the Deanship of Libraries Affairs in cooperation with the Committee of Saudi Universities Collective Subscription to Databases. The distinguished researchers were awarded certificates and scuta by the Vice President for Knowledge Exchange and Technology Transfer, Professor Ali Al-Ghamedi and the Vice President for educational and academic affairs, Professor Zeyad  Al-Hekail, said the Dean of the Libraries Affairs, Dr. Abdulwahhab Aba Al-Khail.
The coordinator of the Committee of Saudi Universities Collective Subscription to Databases, Dr Sami Al-Homoud, made it clear that honoring Saudi universities followed the order of the papers of each university researchers. Also honored were the most active researchers of each university. Accordingly, the following researchers were honoured: Dr Mohammed Al-Qattan, a specialist in surgery, King Saud University; Dr. Mohammed Abu Al-Ma'atti Tahra, Department of Electric Engineering, King Fahad University of Petroleum and Minerals; Dr Abdullah Al-Aseeri, Department of Chemistry, King Abdulaziz University; Dr Ahmed Jamil, Department of Veterinary, King Faisal University; Dr Adel Al-Sunbatti, Department of Chemistry, King Khaled University; Dr Abdulhadi Al-Samman, Department of Chemistry, Umm Al-Qura University; Dr Mohammed Abdulahamid Siddeeq, Department of Mathematics, Al-Qaseem University; Dr Salah Shwaitah, Department of Biochemistry, Taibah University; Dr Nabeel Kardid, Department of Mathematics, Imam Mohammed Bin Saud Islamic Unversity; and Dr Shaikhah Mohammed Al-Ghannam, Department of Chemistry, Princess Noura University.
SCOPUS Prize Scutum during the ceremony, Roy Jacobs gave a presentation on the state of Saudi scientific research in databases and ways to improve this and compared it to other countries. Also, Marwa Salim, from SCOPUS Company, gave a briefing on the history of the company and the participation of the Kingdom of Saudi Arabia and some Arab countries in using the database. She also talked about the how Saudi teaching staff have used the database for publishing, and compared their activities with those of other countries.
It is worthy noting that SCOPUS, a production Elsevier's Publishing Company, is the largest abstract and citation database of research literature and quality web sources, covering the intellectual production in Medicine, Sciences, and Technologies. SCOPUS includes more than 16,000 refereed journals from more than 4000 international publishers. Thus, it is considered a global reference in specialized scientific publishing.