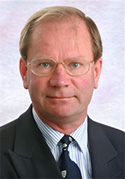 In order to investigate causes and cures of asthma, King Saud University's Asthma Research Chair is teaming up with Professor Stephen Holgate, international asthma expert and winner of the 1999 King Faisal International Prize in Medicine.
The scientific team of the Asthma Chair will certainly benefit from the experience and insight of Professor Holgate, who hails from the University of Southampton, Britain. Dr. Saleh Al-Muhsen, supervisor of the Chair, added that Professor Holgate's research is recognized for his efforts to uncover the causes behind asthma and some of its accompanying genetic mutations. Professor Holgate has won numerous international prizes such as King Faisal International Prize in Medicine, and published over 1000 research articles in well-respected scientific journals. His research is frequently cited by researchers, as reported by the ISI.
Dr. Al-Muhsen noted that the Asthma Chair's scientific team will research in collaboration with Professor Holgate, which will explore the genetic causes that lead up to asthma. Such collaborative research involving highly regarded scientists will have great significance for the Kingdom, which is investing unprecedented money and resources in higher education and research.
Dr. Al-Muhsin invited those interested in asthma research to attend the First Conference of the Research Chair for Asthma, which is to be held concurrently with the Seventh Conference of the Saudi Society for Chest Diseases and Thoracic Surgery between the 17th and 19th of March, 2009. The last day of the Conference will focus primarily on fundamental research in asthma in the presence of outstanding asthma researchers.
Dr. Al-Muhsen gave special thanks to the University leaders, represented by His Excellency University Rector Abullah Al-Othman and the Vice Rector for Knowledge Exchange and Technology Transfer, Ali Al-Ghamdi, for their tremendous support to leading research projects that contribute to the international leadership of the University.