Dr. Khaled Aljammaz ,The supervisor of king Abdallah bin Abdulaziz Institution for developmental housing (architecture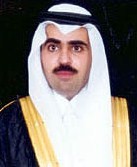 field) at King Saud University, has signed an agreement of research support with Dr Raed Al-Dakheel teaching staff member at College of Tourism & Archaeology at KSU. Dr. Aljammaz has explained that the supported research comes under the title (Methods of decreasing the costs of internal finishing for residential units in the kingdom).
The research aims at choosing and analyzing a number of concepts and factors related to the materials of internal finishing for small residential units at the kingdom of Saudi Arabia and analyzing the cost factors related to each unit besides having a survey about the owners views and user of those units to recognize their desire and preferable material for the finishing off residence factors, said Dr. Raed Al-Dakheel. The research will also contribute in showing some aspects through which costs can be decreased by directing the residence owners towards selecting materials of internal finishing that cope with local environment which also enjoy decorational aspects and at the same time that can be suitable regarding money which may lead to lowering the cost of owning a house in general and especially for low income persons. Dr. Aljammaz concluded his declaration by stressing the fact that supporting scientific researches in the field of developmental housing (architecture field) comes under the framework of helping researchers in achieving their researches and motivating them for work and creativity in this area.