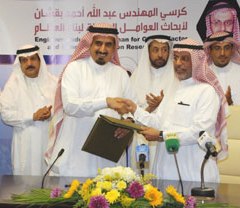 King Saud University Rector Abdullah Al-Othman and Engineer Abdullah Buqshan signed an agreement this week to establish the Buqshan Research Chair for Dentistry.
On this auspicious occasion, the Rector said that research chairs at KSU fall into two categories: ones established with the help of  financial investors and ones established solely by the university. He pointed out that private companies generally establish chairs to create research that targets specific areas of research, while other companies allow the University to determine the scope of a chair's research.
Abdullah Bugshan, Chairman of Bugshan Group in Saudi Arabia, said he believes that research chairs are meant to address problems facing society, adding that dentistry is one subject that applies to people in all regions of the Kingdom. He expressed his pleasure to continue financing this and other research chairs at KSU that tackle the many social problems faced by the community.
Research chair supervisor, Khalid Al-Huzaimi, stressed that an important focus of the Chair will be in bone research, particularly regarding developing advanced polymers that can help the growth of bones. The Chair will strive to raise its visibility in the global research arena through collaborations with distinguished international research centers, universities and scientists. Dr. Al-Huzaimi and his colleagues have already developed close communications with various Gulf Cooperation Council (GCC) nations, organizing and participating in local and regional training and research.
Dr. Al-Huzaimi said that the Research Chair is centered on a local, regional and global reference on factors stimulating teeth bone building. The Chair's message is that it shall be a Center of Excellence on catalyst factors of bone building and to be an important means to promote scientific research, training and generate knowledge for professionals and members of the community, and employ it to improve the quality of health services provided to the community and the development of a distinct generation of researchers and doctors in Saudi Arabia and the GCC States.
Dr. Al-Huzaimi added that the Bugshan Research Chair for Dentistry has many proposed projects, which will certainly benefit from King Saud University's multi-billion dollar commitment to building a world-class infrastructure for research and development.
It should be noted that in addition to the Chair for Dentistry, Abdullah Bugshan has established KSU's Research Chairs for Expansive Soils, Bee Research and Geotechnical Engineering.