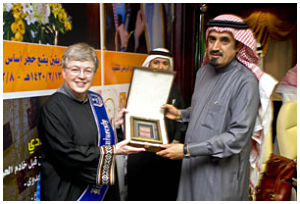 As part of King Saud University's determined efforts to attract the world's finest academicians and researchers to Saudi Arabia, a high-level delegation from Michigan State University (MSU) visited Riyadh this week.  The visit was arranged by the University's Prince Khalid Bin Sultan Chair for Water Research (PKC) and included MSU President Lou Anna Simon, Criminal Justice expert John Hudzik and Dr. Mohamed Faisal, professor of aquatic animal medicine at MSU's College of Veterinary Medicine.
King Saud University Rector Abdullah Al-Othman received the distinguished guests yesterday, and introduced them to some of the University's most important development projects, first presenting a documentary on Saudi Arabia's premier university and then accompanying them on a tour of the campus and its rapidly expanding research and development sites. The tour featured, among other places, the Faculty of Medicine's stem cell laboratories, the site of the future Riyadh Technology Valley and the King Abdullah Institute for Nanotechnology.
The purpose of the visit was for Michigan State University representatives to discuss potential cooperation, such as joint-research programs, especially in the field of agriculture and water, and the MSU delegation was indeed an excellent mix of experts for such projects. Over the past decade, Dr. Hudzik has been instrumental in advancing the university's international strategic initiatives, and is the former Vice President for Global Engagement and Strategic Projects at Michigan State and chair for the Study Abroad Task Force of the National Association of Foreign Student Advisers (NAFSA). Dr. Mohamed Faisal, a professor of Microbiology and Immunology advance has invaluable experience in  biomedical  sciences and pathobiology. His research strives for the betterment of animal and human health.