King Saud University has begun a collaborative program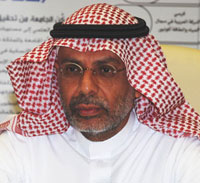 in the field of Dental Science with professors from Harvard University in the United States and the University of Milan in Italy.
Dr. Khalid Al-Hezaimi of King Saud University's Department of Restorative Dental Sciences, who also serves as a visiting scholar at top American Universities such as Penn (The University of Pennsylvania), Tufts and the University of Southern California, is a key Saudi participant in this program, while international experts involved in this international partnership include Harvard's Myron Nevins, a board member of the American Academy of Periodontology, Massimo Simeone, co-chairman for the Department of Periodontics and Dental Implant Rehabilitation at the University of Milan and two distinguished dental researchers at the University of Milan, Doctors Emilio Maschera and Filippo Fontana.
During a recent visit, these experts, along with members of the KSU faculty, convened to discuss advances in treating gum disease and other issues related to research in Periodontics, which is the study of the structure of teeth and gums, including the issues of gum care and diseases. A good number of attendees were present for the discussions, including many of King Saud University's female graduate students, who took this valuable opportunity to learn from some of the pioneers in their field.
KSU Vice Rector for Graduate Studies and Scientific Research, Prof. Ali Al-Ghamdi, was also in attendance, and he stressed that this scientific partnership has been organized in order for Saudi experts and future experts to exchange invaluable knowledge with global scientific experts. KSU Research Chair Abdullah Bugshan, an expert in the field of bone and dental research, noted the connection between such distinguished visitors and the University's rising status in advanced scientific research. Experiments by Saudis are increasingly being conducted in cooperation with international experts, and provide unique experiences that will soon provide Saudi patients with new and beneficial treatments.
Dr. Khalid Al-Hezaimi of the College of Dentistry added  that four years ago, a research team comprising of American universities Harvard and Penn and Italy's University of Milan conducted some of the most important scientific experiments on platelet derived growth factors, which has led to new treatments for atrophy in jawbones. One particular product stemming from this research is Mucograft, which helps with the regeneration of gum tissues, among other things, Mucograft  is the first commercial product of its kind to be used for treating receding gums rather than using traditional methods that lead to the loss of taste, when gum tissue is taken from the soft palate (the roof of mouth). Furthermore, Dr. Al-Huzaimi points out that such research projects will be the type to be conducted in the coming years with universities such as Harvard, Penn and the University of Milan.