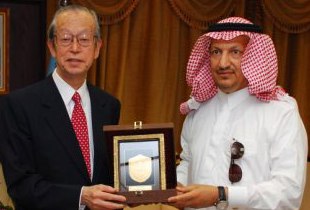 On Wednesday, Vice Rector Abdulaziz Al-Ruwais welcomed longtime Japanese politician Koji Omi to the King Saud University campus. Mr. Omi is the founder and President of the Science and Technology in Society (STS) forum which has built an international network for advancing science and technology for the benefit of humankind, while considering vital questions of ethics, safety and the environment, which accompany scientific progress.
KSU officials and their distinguished guest discussed the Arab League's important role in enriching scientific research and progress, while Mr. Omi, after being shown a presentation of King Saud University's development programs, pointed out that he looks forward to Saudi Arabia's participation in the 2010 forum.
The annual STS Forum, to be held this October in Kyoto, Japan, gathers international leaders from different constituencies to discuss crucial scientific developments, and discuss their benefits and risks, and explore ways for nations to collaborate. Attendees of the forum include policymakers, business executives, scientists, researchers and members of the media.