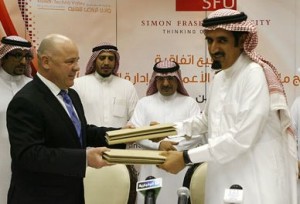 This month, a collaborative MBA program between King Saud University and Simon Fraser University's Segal Graduate School of Business, located in Vancouver, was formalized by officials from the two distinguished institutions. The signing ceremony, laying the foundation for an MBA program in Technology Management at King Saud University, was attended by Rick Colbourne, Director of the Learning Strategies Group (LSG) at Simon Fraser University (SFU), KSU Rector Abdullah Al-Othman, Vice Rector of Higher Studies and Scientific Research Prof. Ali Al-Ghamdi, and Dr. Ahmed S. Al-Ameri, Dean of King Saud University's College of Business Administration.
Dr. Al-Othman stated that the agreement is an important step toward KSU's goal of collaborating with the world's most prestigious universities, a vital part of developing expertise and development in the Kingdom. He noted that the program is to be supervised by individuals of great distinction, expertise and experience, and he expressed his delight that the program, first and foremost, is aimed to provide invaluable opportunities to both male and female students are the first target of this program; such a program will enable these talented Saudi students to serve their country and serves as an investment in human capital.
As The director of the MBA program in technology management at King Saud University, Dr. Khalid Bin Mohammed Khervi looks forward to strengthening cooperation and partnership between the two parties and making an important contribution to Saudi Arabia's young knowledge economy.
The Learning Strategies Group (LSG) at the Segal Graduate School of Business, which develops innovative strategic learning solutions, is an internationally established program with a wide range of partners. They develop, design and deliver instructional solutions for industries and communities from mining to healthcare to higher technology, and work with Corporate Directors, Senior Executives and Managers from government, private and not for profit sectors.