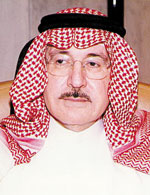 Last week, King Saud University students took part in the 2010 Saudi Aramco Summer Festival, an educational and recreational program stressing positive community values and programs, as well as  social responsibility.
The opening ceremony, attended by Saudi Prince Sattam bin Abdul Aziz, Deputy Governor of Riyadh, launched this valuable community program that informed young Saudis about aspects of social responsibility that are vital in the 21st century, such as volunteerism, traffic safety, public health and environmental conservation.
The large number of King Saud University students in attendance took the opportunity to learn how they can benefit their communities and nation. The Aramco event not only exposed students from various schools and universities to important concepts of social responsibility, but it showed attendees how they might organize and disseminate these values to the general public. KSU's student delegation was organized by Dean of Students Affairs Fahd bin Abdul Mohsen Al-Musnad, Ebtesam Mohammed Salah Al-Olayan and student club supervisor Ameera Bint Hasan Al-Mahasna.
This entertaining and informative event has proved to be quite successful thanks to its well-organized program and engaging activities that promote ideas such as art clubs and community centers, health awareness programs, the effectiveness of recreation programs and the implementation of cultural competitions for children.