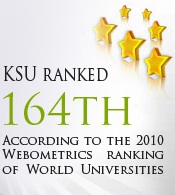 King Saud University (KSU), according to the 2010 Webometrics Ranking of World Universities, has maintained its position as the top ranking university in the Arab world. The annual Webometrics rankings, which is one of the world's most recognized arbiters of quality universities, is an initiative of the Cybermetrics Lab, a research group belonging to Europe's third largest public institution dedicated to research in Europe, Consejo Superior de Investigaciones Científicas (CSIC).
KSU is ranked 164th globally, an improvement of 35 spots since the 2009 rankings. In particular, KSU surpassed ten Asian institutions of higher learning, placing eighth in that region, and solidifying King Saud University's place as one of the world's rising universities. In recent years the University's status has swiftly risen in the eyes of several other world rankings, such as the Shanghai Jiao Tong World University Rankings and the QS World University Rankings.
Other Saudi universities made extraordinary strides in the 2010 Webometrics rankings, as well. King Fahd University placed 178th (improving 226 spots), King Abdulaziz University placed 291st (improving 205 spots) and Umm Al-Qura University placed 681st (improving 369 spots).
Indeed, attaining these global distinctions are products of the Universities' and the Saudi government's ambitious and untiring commitment to higher education.
Related News