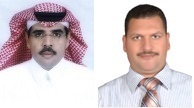 The authors of a new book about intellectual property and the pharmaceutical industry hope the publication will bring about changes in laws that will allow the poor access to medication at an affordable price.
"Intellectual Property and Pharmaceutical Industries: An Analytical Study in Light of the World Trade Organization" was authored by Fars Alanazi, associate professor of pharmacology at King Saud University, and Dr. Abdel-Rahim Mady, legal consultant for the Intellectual Property and Technology Licensing program at KSU.
The book was jointly produced by IPTL and the Dr. Walid Kayyali Chair for Phamaceutical Industry, and its publication was supported by KSU Rector Abdullah Al-Othman and Dr. Ali Al-Ghamdi, KSU's vice-rector for graduate studies and research.
The authors say flexibility shown by the World Trade Organization through its Trade-Related Aspects of Intellectual Property Rights (TRIPS) agreement needs to alleviate negative effects to help developing countries.
The book uses deductive analysis to assess the impact of TRIPS on the legal regulation of patents in pharmaceutical industry in both developing and industrial countries. It begins with an explanation of the problem and asks: "Will intellectual property protection in the pharmaceutical sector result in more expensive medication, and, if the answer is yes, how can this dilemma be solved?
Based on extensive research, the authors propose many means that would help remedy the situation if implemented within the local pharmaceutical sector, and experts and companies in that field have been informed of the research.
The book addresses many legal and pharmaceutical matters and mechanisms that would allow developing countries to cope with the crisis of rising prices for medication. These mechanisms include mandatory licenses, parallel import and generic drugs.
Related News