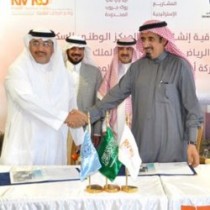 On Saturday morning, King Saud University awarded ABV Rock Group Co. Ltd with the contract to construct the headquarters for the National Diabetes Center, which is to be located in Riyadh Techno Valley (RTV).
The Center is a vital resource for KSU researchers working to improve the quality of life for people with diabetes. The contract was signed by KSU Rector Abdullah Al-Othman and Mr. Saadoun Al-Saadoun for ABV Rock Group Co. Ltd.
Attending the signing were KSU Vice Rector Ali Al-Ghamidi, Advisor for Strategic Projects Khalid Al-Shadi and RTV Executive Director Abdul Aziz Al Dosari.
The project studies and designs were made by the Swedish firm Samark architecture & design AB, located in Malmö, while the project has been entrusted to ABV Rock to be implemented under the supervision of KSU's University Strategic Facilities Program.
The new four-story building will possess a total area of 15,600 square meters including a basement floor, parking area, green spaces, external gardens and main entrances. The structure will be fully occupied by the National Diabetes Center and their various departments (clinics, community service, research, academics, plants and labs, radiology and X-ray photography, in-patient rooms and administration). Each floor listed below will accommodate the following divisions and services:
Basement:  Medical and building supply storage facilities, as well as medical record archives. The electrical and mechanical maintenance offices will also be located in this area.
Ground Floor: Entrances and reception, an emergency room, ambulance services, admissions, X-ray photography, and dietary services.
First Floor: Nutrition, education, rehabilitation, nature therapy divisions, and accommodate physiological clinics, intensive insulin therapy, social services, checkup clinics, out-clinics pharmacies, a glucose observation unit, and dining services.
Second Floor: Out-patient clinics, labs and female patient rooms.
Third Floor: Building administration and VIP patient rooms with ten suites and male patient rooms.
The National Diabetes Center's objectives are to provide world-class clinical service to diabetic patients in a professional, personalized and comprehensive manner, while developing programs to lower the prevalence of the disease. Other objectives include developing social awareness campaigns about diabetes, devising proactive methods to prevent or control diabetes and providing high quality and specialized training, comprehensive educational programs and expert treatment and services for diabetic patients.
Divisions and Units in the National Diabetes Center include:
External Clinics Division
Inpatient Section
VIP Unit
Foot Unit
Intensive Insulin Therapy Unit
Dental Unit
Pancreatic Transplantation Unit
Nutrition Unit
Clinical Organ Functions Unit
Lab Unit
Pharmacy
X-Ray Unit
Admissions and Emergency Unit
Natural Therapy Unit
Medical Rehabilitation Unit
Daily Testing Unit
Community Service Division
Educational Unit
Home Follow-up Unit
National Register, Technology and Information Division
National Registration Unit
Technology Unit
Information Unit