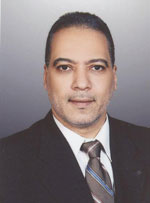 The Scientific Council of King Saud University has agreed to publish the Arabic translation of the book "A Guide to Teaching Practice", to be used as a scientific reference work. It will be translated by Professor Mohammad Salem.
Written by Louis Cohen, Lawrence Manion, Keith Morrison and Dominic Wyse, and published by RoutledgeFalmer, A Guide to Teaching Practice has long been a standard textbook required for teacher training courses in Britain. Dr. Salem's translation will provide Arabic educators with a proven resource for mastering their profession. The textbook covers essential areas of the teaching profession, such as learning theory, pedagogy, gifted children and many other facets.
Dr. Salem has translated the Fifth Edition of the textbook, which was reviewed and fully endorsed by The British Journal of Educational Studies, which said, "This is a welcome new edition of what has become something of a standard text for student teachers". In regard to its contents, the British Journal said, "In essence it covers just about everything a student teacher needs to know in a single volume."
The textbook has eighteen chapters with materials on:
learning and teaching and using ICT (information and communications technology) in the classroom;
teaching and learning numeracy;
teaching and learning literacy;
gifted and talented children.
This book's publication illustrates KSU's concerted efforts to disseminate knowledge, particularly throughout the Arabic-speaking world, and is an outcome of Rector Abdullah Al-Othman's policy of introducing international sources of knowledge to King Saud University.
Dr. Mohammad Salem is an experienced translator, who combines academic specialization with practical expertise, as well as a deep understanding of curricula and methods of teaching in particular.  He was awarded a PhD in Education from the affiliated Ain Shams University and University of Pittsburgh. He is known for his impressive academic and scientific record, and published research in the field of education. He has held several administrative and academic posts, in addition to serving as an education consultant in several Arab Universities.