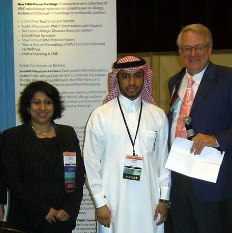 King Saud University's Asthma Research Chair, directed by Dr. Saleh Al-Muhsen, received three awards for departmental projects during the World Allergy International Scientific Conference held December 5-8 in Dubai.
The three-day conclave attracted approximately 1,500 international participants from more than 50 countries.
The program, focused on the topics of asthma and co-morbid conditions and expanding the practice of allergy for optimal care, featured 52 experts in the diagnosis and management of asthma and its comorbidities. The KSU contingent claimed three of 14 scientific awards presented including:
IL-17 drives the recruitment of B cells to the bronchial tissue of severe asthmatic patients.
Epithelial cell derived chemokines enhance the proliferation and survival of airway smooth muscle cells via the activation of ERK1/2 signaling pathway.
TH-17 cytokine modulation of steroid insensitivity in peripheral blood mononuclear cells.
Participants on one or more of the award-winning KSU teams were Dr. Saleh Al-Muhsen, director of the university's asthma research chair and the University's department of pediatrics; Dr. Rabih Halwani, asthma research chair and Prince Naif Center, KSU college of medicine; Dr. A. Vazquez Tello, asthma research chair and Prince Naif Center, KSU college of medicine; and Qutayba, McGill University professor, director of respiratory axis at the University Health Center Research Center Institute in Montreal, associate director of Meakins-Christie Laboratory, and King Saud University visiting professor.
The WOA International Scientific Conference is accredited by the European Accreditation Council for continuing medication education for medical specialists. The goal of a CME system is to assure a high level of theoretic and clinical competence throughout the working life of the specialists. As part of the working life of the specialists, 24 post-graduate courses are presented.
Related News