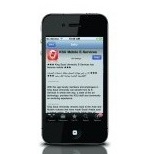 In an action initiated to implement the needs of effective e-government, King Saud University has launched an application for smartphones. KSU is the first Saudi University to do so. The application will allow KSU members to access their personal files, administrative and financial requests and conference participation requests using their mobile phones. In what is described as only the first stage, this application marks yet another move by the University to improve communication and efficiency between faculty, staff and students.
Vice Rector Abdulaziz Al-Ruwais, supervisor for the University's e-Transactions Committee, said that KSU will continue its pioneering efforts to develop and disseminate e-services, and that smartphone applications offer an invaluable link between various communities within and outside of the University.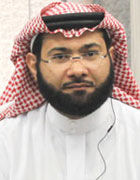 KSU Dean of e-Transactions and Communications Yousef Al-Ohali emphasizes that the smartphone services, to be introduced in stages, are being developed and implemented largely by his Saudis  in his deanship who are continually exploring ways to introduce new technology into the University's daily transactions.
Engineer Faisal Al-Akshan, the Deanship's Director of Applications, said that the next phase will concern KSU news and announcements of events, both inside the University and out. He said additional services will be available for facilitating students' university studies, in addition to cultivating a rich university culture. Dr. Al-Akshan added that the Deanship's development team is following a clear plan focused on the elimination  of traditional paper file systems by utilizing applications that help meet the nation's goals for a comprehensive e–government. He concluded by thanking all the members of the development team. "You are drawing the map your country needs to enter into the world of the future," he said. "Your tireless and devoted efforts will change the face of transactions and improve the life of each member of our community". Recently, the Deanship launched a new online service allowing students to build a CV and send it as a text document that can be easily downloaded and forwarded to concerned parties. Again, these electronic services are in compliance with the directives of KSU Rector Abdullah Al-Othman to employ all available technical, as well as human resources for the progress of King Saud University.
The Deanship of e-Transactions and Communications was initially established as the Computer Center, in Al Malaz in 1978. After a using rented computers from IBM in the beginning, the university embarked on a program of fast-paced development. Today the office is staffed by a highly-qualified and experienced staff who have been provided with the latest resources. Related News