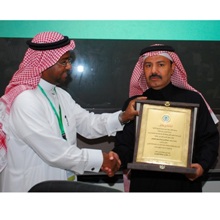 King Saud University's Date Palm Research Chair (Formerly Red Palm Weevil Research Chair) launched the second session of a training course titled "Palm Cultivation and Management of Pests" on Feb. 19.
The session included date palm cultivation, integrated red palm weevil management, diseases of date palms and insect pests, and advanced biotechnology in the field of date palms.
Among the participants were Deputy Minister of Agriculture for Agriculture Affairs Engineer Mohammad Abdullah Al-Sheha and Dean of Food and Agricultural Sciences College Hassan Abdullah Al-Kahtani.
During his speech, Dr. Saleh Aldosari, the supervisor of the Date Palm Research Chair, said the idea of establishing the Chair followed directives from KSU Rector Abdullah Al-Othman, who believes in the significance of the palms to Saudi Arabia and the need to preserve them against agricultural pests, particularly the red palm weevil, which has destroyed thousands of palm trees worldwide.
The Date Palm Research Chair is one of the areas of expertise under KSU's Research Chairs Program. Dr. Ali Al-Ghamdi, Vice Rector for Graduate Studies and Scientific Research, spoke of the vision of the program, emphasizing that KSU has received support for its mission from the community.
"Such support has yielded the establishment of 118 research chairs over four years," he said, adding that "the Research Chairs Program is a sustainable program, having invested large sums of money within the Endowment Project Program, which will make more than SAR 250 million (USD 67 million) per year.
Dr. Al-Ghamdi expressed hope that more research chairs could become research centers, pointing out that several already have, including the Saudi Basic Industries Corporation (SABIC), one of the world's leading manufacturers of chemicals, fertilizers, plastics and metals.
The Vice Rector underscored the role played by this invaluable Chair and how it reflects KSU's ideals of social responsibility by providing direct services to farms, which would help bolster the Saudi economy.
Dr. Al-Ghamdi suggested that the Date Palm Research Chair be converted to a large research center in cooperation with the Ministry of Agriculture with the goal of fulfilling the Kingdom's aspiration of growing the Saudi date industry globally.
Deputy Minister Dr. Al-Sheha pointed out that the ministry already has paid much attention to palm trees and dates, providing support and guidance on preventative actions to palm farmers in several areas in the Kingdom.
He urged that cooperation among local and international experts and specialists in the field of date palm cultivation continue in order to learn more about red palm weevils, their early detection and effective treatment solutions.
Dr. Al-Sheha said that one the most important objectives of the program is to control the pest, limit the severity of infestation and promote awareness and educational programs on red palm weevils to farmers through lectures, seminars and meetings.
He emphasized the red palm weevils' immense destructive ability on date palms and the concerted efforts required of citizens and farmers to preserve the trees.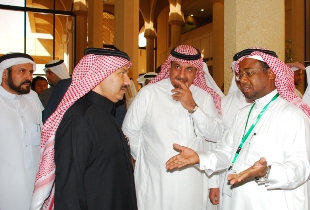 Related News