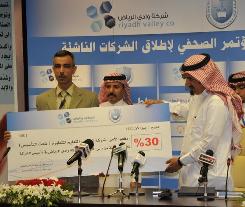 King Saud University signed eight contracts for knowledge investment companies Sunday, 6 March 2011, which are being financed by the Development and Knowledge Investment Fund, Tamkeen, and nurtured by the Riyadh Technology Incubation Center. Coinciding with the launch of the ''100 ideas in 100 days" campaign, the contracts were signed by KSU Rector and Chairman of the Board of Directors of the Riyadh Valley Company, Dr. Abdullah Al-Othman.
The contracts mark a threshold for the establishment of strong and effective investments, through the efforts of the Riyadh Valley Company, in innovation and Saudi Arabia's  burgeoning knowledge-based economy. The Riyadh Valley Company will be financing each company with one million Saudi riyals (267 thousand USD) or 30% of its capital through Tamkeen, which is affiliated to the Company. The Riyadh Valley Company will act as a conduit for investors to take advantage of these investment opportunities.
Al-Othman said that Saudi universities should not limit their educational process to the number of admitted students and graduation rates, as this is no longer the global standard for academic and scientific excellence, nor the path to global leadership and development. Al-Othman contended that the basis for success at universities is the number of highly-skilled students entering the job market, as well as the cultivation of innovative students and entrepreneurs.
According to Dr. Al-Othman, KSU has therefore adopted a philosophy of openness through examining the expertise and approaches of prestigious global universities, while it has collaborated with more than 83 international universities from more than 14 developed countries. He added that KSU has also attracted an elite and internationally renowned group of scholars and innovators, in addition to distinguished graduate students, stressing that KSU's enthusiasm is unflagging thanks first and foremost to God Almighty, and then to the unlimited support provided by Saudi leadership, who believe that the sky is the limit.
Dr. Al-Othman asserted that the components of assets have two key resources: an educated generation and innovative ideas. He highlighted that as the funding mechanism is indispensable in this regard, KSU has founded a fund called "Tamkeen" for development and cognitive investment.