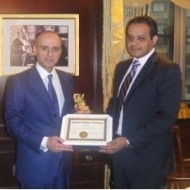 In Dr. Ahmed Al-Kahtani's return to the State University of New York at Buffalo and the UB School of Dental Medicine, the King Saud University professor mixed business with great pleasure early this month at the university where he earned his certification in Advanced Education in Endodontics and a Master's degree in Oral Science.
In addition to some educational discussions with several UB staff, Dr. Al-Kahtani received the university's prestigious Alumni Certificate of Excellence, a sparingly-presented honor reserved for UB graduates who have attained excellence in their field. He was also designed as a visiting professor in the UB School of Dental Science, recognized as one of the nation's finest among nearly 60 dental schools.
In the three years he spent at UB, 2001 through June of 2003, Dr. Al-Kahtani's supervisor was Dr. Eugene A. Pantera, Jr., Director of Division of Endodontics, the Department of Periodontics and Endodontics, and Assistant Dean of Continuing Education, made no secret of his profound respect for Dr. Al-Kahtani during and since his academic days in Buffalo.
"What I always tell my students when they get here, 'You get out of it what you put into it,'" Dr. Pantera said.  "He put a lot into [his education] and he got a lot out. He is where he is because of who he is and because of his inner qualities. He was a very competent student while he was here . . . a competent clinician.
"Let me put it this way, I'm not surprised that he has done as well as he has, yet in our communications he very much underplays his activities. He's on the humble side. His students are here now and they are very respectful of him."
Dr. Al-Kahtani spent from1992 through 1999 attaining his bachelor's degree in dental surgery and completing his internship. He was then recruited by the University at Buffalo School of Dental Science which, a relatively new collaborative program led by Dr. Othman Shibly. In the last 10 years, Buffalo has recruited 100 students from countries such as China, South Korea, Qatar, Syria, Italy, India and Saudi Arabia, with Al-Kahtani becoming the second Middle East endodontic student and first Saudi placed in Pantera's charge.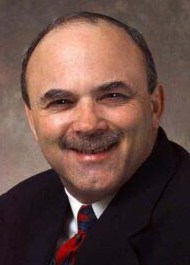 "He was a very pleasant person, very nice to work with," Pantera said. In fact, I shared my dental [clinic] with him while he was doing his fellowship, and we've continued to communicate over time through email."
Al-Kahtani left Buffalo and after a brief professional stop in Canada, he returned to King Saud University where he steadily established regional prominence in as an instructor and researcher in endodontics. He has been a stellar King Saud University representative since returning to the Kingdom, frequently appearing on the international dental speaking circuit and recently was named to the dais of the 2012 United Arab Emirates International Dental Conference in Dubai, a place he'll share with Dr. Sebastian Ciancio, one of his advisors while at UB.
Last January, he chaired the organizing commitment for a recent King Saud University international dental conference and began a three-year term as President of the Saudi Dental Society. His dedication to King Saud University earned him an invitation to visit Adel bin Ahmed Al Jubeir, the Saudi Ambassador to American, in Washington, D.C., before Al-Kahtani headed to Buffalo.
While he left the UB in the summer of 2004, he retained a strong bond with the School of Dental Science program and its faculty. According to Dr. Pantera, Dr. Al-Kahtani has contributed financially to the program and has been a major asset in the UB-KSU exchange program, interviewing and recommending applicants for UB residency appointments. Presently, Pantera said that he has three endodontic students in his department.
"He always recommends the cream of the crop to us," Dr. Pantera said. "I should emphasize that the students we accept from Saudi are academically qualified to be here . . . it's not that they're just paying us to have them here. They are on equal footing in the application process with our North American applicants.
"In addition, we have had absolutely zero problems with the (Saudi) students. When I say zero, I mean there have been no issues. They are very nice to be around. They are polite. They are respectful. And they have a sense of humor that I don't think is reflected in the media, and we have a pretty biting sense of humor up here."
King Saud University's exchange with Buffalo in not only linked to dentistry, but many programs – a Saudi recently successfully completed his Ph.D., defense – and the collaboration is no laughing matter. Rather, the exchange process is in locked step with Saudi King Abdul-Aziz' philosophy that the international exchange of knowledge is the foundation of a healthy educational foundation for all concerned.
King Saud has myriad students enrolled in international post-graduate programs, and faculty cooperating with some of the finest research centers in the world, but certainly the experience Kahtani enjoyed as one of the University of Buffalo experts is a quintessential example of  the King's national goals,  in complete accord with the lofty stardards being established by KSU Rector Abdullah Al-Othman.