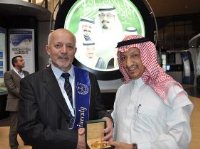 On behalf of King Saud University Rector Dr. Abdullah Al-Othman, Vice Rector Dr. Abdulaziz Al-Ruwais recently welcomed the rector of the University of Sarajevo, Dr. Faruk Čaklovica, and an accompanying delegation as part of KSU's mission to build ties with institutions of higher learning from around the world.
Dr. Al-Ruwais briefed the visitors on KSU's major accomplishments witnessed in its current development campaign, and the two sides discussed issues related to academic and research cooperation.
Dr. Čaklovica, after praising KSU's advances in world-class science and research, briefed his hosts on a number of potential cooperative projects between the two universities.
The visiting delegation was shown a presentation, which illustrated KSU's scientific activities and resources, after which Vice rector Al-Ruwais presented Dr. Čaklovica with a KSU mantle.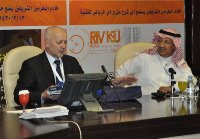 In December 2009, Saudi Minister of Higher Education Khalid Al-Anqari and an accompanying delegation visited the University of Sarajevo.
In 1531, the University of Sarajevo was the first university to be established in Bosnia and Herzegovina as an Islamic law college, with a modern university being established and expanded in 1949.
Today, with about 55,000 students, the university ranks among the largest in the world in enrollment. Since the university opened, 122,000 students have received bachelor's degrees, 3,891 have received master's degrees and 2,284 have received doctorate degrees in 43 fields.