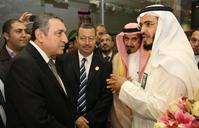 Interim Egyptian Prime Minister Dr. Essam Sharaf recently stepped away from the challenges in his country to visit The Gulf, a journey that  included a stop in Saudi Arabia and King Saud University (KSU) where the Egyptian leader a faculty member in the College of Engineering from 1990 to 1996.
Sharaf, appointed to replace the embattled Ahad Shafiq on March 3rd, was greeted by KSU Rector Abdullah Al-Othman, KSU Council members and members of the College of Engineering Council. After his ceremonial greeting, a tour of the King Abdullah Institute for Nanotechnology, and an update on the college's existing research projects, the former KSU professor spoke.
The Prime Minister, who published 42 papers before joining the KSU staff and more than doubled that total during and after returning to Egypt, expressed his profound respect and delight for KSU's remarkable progress in recent years, citing its lofty international standing as a world-class educational and research institution. Prime Minister Sharaf said he enjoyed his KSU tour and emphasized that he has maintained a close relationship and bond with the KSU faculty and students.
In his remarks, Rector Al-Othman expressed pride in a world leader's PM decision to visit KSU and he certainly had to find the Prime Minister's praise to be particularly gratifying in that Sharaf had an extensive background in academia. The son of a college professor in veterinary science and one of five Sharaf siblings who embraced academia received his undergraduate degree from Cairo University in 1975 and did his masters and doctoral work in civil engineering at Purdue University in the United States.
After a period as a graduate instructor at Purdue, he returned to his native Egypt and Cairo University where he was an assistant professor until accepting a position in KSU's College of Engineering. In 1990, he left KSU with a full professorship and rejoined the Cairo University faculty. In the next six years, he was in and out of academic, spending a couple brief tours in government positions, but he was a Cairo University professor when he was asked to replace Shafig early in 2011.
Dr. Al-Othman used Sharaf's visit to emphasize that 70 percent of the Kingdom's Council of Ministers are graduates of KSU where Sharaf served, and added that many local and global leaders are among more than 200,000 KSU graduates from Saudi University's largest university. The Rector said such statistics are affirmation that KSU is providing scholars who are able to effectively contribute to the production of knowledge, a trademark of developed countries.
Sharaf also spent time visiting with Saudi dignitaries including King Abdullah and the Saudi people before leaving for Kuwait.