Professor Mubarak Al-Faran, a force in the Kingdom's medical community, has been named as King Saud University's Dean of the College of Medicine and supervisor of the University's hospitals.
Prior to the recent appointment, announced by Khalid Al-Angari, Saudi Minister of Higher Education, Dr. Al-Faran had been a professor in the KSU College of Medicine's department of ophthalmology since 1995 and served as the Department of Anatomy chairman from 1997 and 1999.
Dr. Al-Faran has an extensive background in ophthalmology and is the present chair of the Arab Council of Ophthalmology, a position he'll hold until next December. He was a co-founder of the Saudi Ophthalmological Society and was the society's vice-president for several years.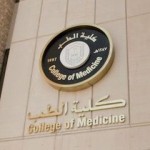 In addition, he was the founder of the General Directorate of Health Affairs in Bisha and served as general manager from 1993 to 1999, and he also was a senior consultant as an eye specialist at King Khalid and King Abdul-Aziz University Hospitals.
According to 2009 statistics, the KSU College of Medicine has 1674 undergraduate students, 268 fellowships trainees, 200 postgraduate students participating in 46 postgraduate programs, an academic staff of 489 and 2975 healthcare specialists working for the University hospitals.