A King Saud University delegation headed by Vice Rector Abdulaziz Al-Ruwais recently visited Princess Noura bint Abdulrahman University (PNU), the world's largest women's university. The visit was an opportunity for KSU officials to observe the new campus, a monumental building project spanning the past two years.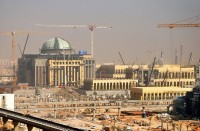 The KSU delegation included Dr. Mousaad Al-Mousaind, Vice Rector for Projects, Assistants to the Vice Rector for Projects Hisham Al-Faleh and Dr. Abdulaziz Aldegheishem and representatives of the Colleges of Engineering, Architecture and Planning, Computer and Information Sciences.
A tour of the vast PNU campus and its facilities was led by Ministry of Finance engineer Abdul-Malik Mounif, who gave a thorough briefing about the PNU project in all its phases, as well as an overview of the administrative, educational, residential and facilities and services.
Princess Noura bint Abdulrahman University occupies 8 square kilometers and cost more than 20 billion SAR (5.3 billion USD) to build.
Princess Noura bint Abdulrahman University, the Kingdom's first solely female university, is located in the northeastern suburbs of Riyadh. It was launched in 2007, King Abdullah laid its cornerstone in November 2008 and His Royal Highness officially opened the university in May of this year. Operations will officially start in 2012.
With the capacity to enroll some 40,000 students, PNU will offer Saudi females a wide array of strong academic programs, while the PNU's faculty, facilities and resources will provide an academic environment that has heretofore been logistically problematic at universities where strict gender segregation is enforced.
The massive new campus, which adds to PNU's already existing 32 college satellites spread across the Riyadh region, possesses a large administration building, 13 college faculty buildings, a library, laboratories, conference centers, a residential area and a 700-bed hospital.
HRH Princess Noura was King Abdullah's much beloved aunt, sister of the Kingdom's founder King Abdul Aziz Al-Saud. She passed away in 1950, but her name lives on in one of the world's most advanced institutions of higher learning in terms of infrastructure.
On behalf of the KSU community, Dr. Al-Ruwais expressed his deep gratitude and appreciation for HRH King Abdullah's unconditional support for education in the Kingdom, especially higher education.