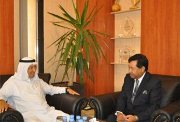 Recently appointed Bangladeshi Ambassador to Saudi Arabia, Mohammed Shahidul Islam, visited King Saud University on July 17 and was warmly received by Vice Rector Abdulaziz Al-Ruwais.
The meeting, which involved discussions regarding bilateral relations between the Kingdom and the Republic of Bangladesh, especially in the fields of academics and research.
The two officials both stressed their wish to enhance collaboration between KSU and Bangladeshi universities and research centers. Indeed, earlier this month the Bangladeshi ambassador expressed his belief that "Saudi Arabia remains close to our hearts since the two countries are bound by social, religious and cultural ties from time immemorial."
King Saud University, which facilitates significant research and investment in technology and communications, plays an important role in the development of Saudi Arabia's knowledge-based economy. The meeting between Dr. Al-Ruwais and Ambassador Islam Kingdom's is significant, therefore, considering that Saudi annual exports to Bangladesh are reported to be $472 million, with imports totaling $123.4 million.
Indeed, a great number of Bangladeshi professors, doctors and engineers are employed by King Saud University, contributing to the institution's swift rise to academic and scientific prominence.
The meeting concluded with Vice Rector Al-Ruwais presenting Dr. Mohammad Shahidul Islam with the King Saud University Gold Medal.
Related News