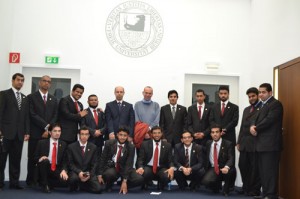 Christoph Gibian, Assistant Dean of International Affairs at Free University of Berlin, enthusiastically welcomed a group of visiting King Saud University students and proclaimed their visit to be a significant cultural, political, and social occasion for the Saudi guests and their hosts.
Professor Gibian explained that the visit was instrumental in introducing the young Saudi visitors to the experiences of advanced nations and generating an exchange of outlook and expertise. He also lauded KSU and its successful quest to bond with the world's progressive universities.
The KSU delegation, which included high-ranking students and university club presidents, was led by Professor Faisal Alanzi, director of KSU Student Activities and Ahmad Al-Hamoui, head of the SST Company. They visited some of the country's most distinguished cultural, political and scientific landmarks, as well as several of the most important research centers.
The Saudi contingent's visit was highlighted by the signing of letter of understanding between KSU and Free University of Berlin, a public university founded in 1948. Referred to as Freie Universitat, a title linked to West Berlin's standing in the free world when the university was founded during the Cold War, is one of Germany's leading research institutions with emphasis on humanities and social sciences.
Freie Universitat, with an enrollment of 31,000 students and more than1,600 full-time faculty members, offers a multitude of facilities including the Graduate School of Muslim Cultures and Societies, which houses the Interdisciplinary Center on Social and Cultural History of the Middle East. The center will work hand-in-hand with KSU's Prince Salman bin Abdul Aziz Chair for Historical and Civilization Studies of the Arabian Peninsula.