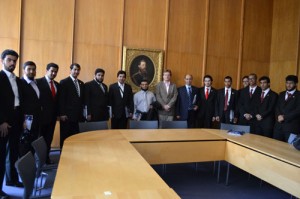 A student delegation from King Saud University recently visited RWTH Aachen University in Germany.
The group, which included a number of top-ranking students and student club presidents, was received by Dr. Dieter Janssen, Director of Cooperation and Relations with International Universities at RWTH Aachen University, on behalf of Rector Ernst Schmachtenberg.
Dr. Janssen briefed the group about the university and its accomplishments, which have elevated the school to the first rank among technical universities in Germany.
Ahmad Al-Hamoui, head of the SST Company, then briefed Dr. Janssen about the development programs in KSU and its research activity, and explained KSU's great interest in networking with pioneering universities worldwide.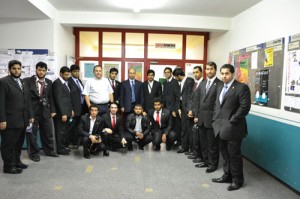 The KSU delegation was enthusiastically met by Aachen University students, who explained the functions of its student committees to the visitors and escorted them on a tour of the college of engineering, the university's libraries and hospital.
Afterward, Dr. Janssen emphasized the importance of student visits between universities, visits that allow creative young people from different parts of the world to be introduced and exchange information and ideas. He encouraged students to benefit from the German universities exchange program.
RWTH (Rheinisch-Westfälische Technische Hochschule) Aachen University is a research university in Aachen, North Rhine-Westphalia, Germany. The university was founded on May 15, 1865 as the Polytechnikum, and when the lectures began October 10, 1870, at the height of the Franco-Prussian War, there were 223 students and 32 instructors. Today, it has an enrollment of approximately 33,000 in 101 study programs.
The university's primary purpose was to educate engineers, especially for the mining industry in the Ruhr area. It included schools of chemistry, electrical and mechanical engineering as well as an introductory general school that offered classes in mathematics, natural sciences and social sciences.
RWTH Aachen has achieved international recognition in several fields of engineering and science, especially mechanical engineering, electrical engineering, industrial engineering, computer science, physics and chemistry. The university is affiliated with a number of internationally noted scientists, including Nobel laureates in physics and chemistry.
RWTH Aachen is a founding member of the IDEA League, an alliance of five leading universities of technology in Europe.
Related News