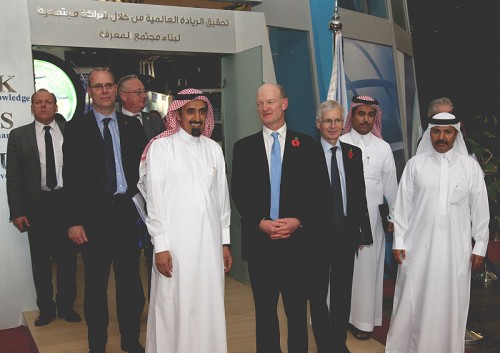 Impressed by King Saud University in a recent visit, David Willetts, British Minister of State for Universities and Science, enthusiastically endorsed increased cooperation between Saudi Arabia's largest academic institution and British universities.
The British minister, greeted by KSU Rector Abdullah Al-Othman and Vice Rector Ali Al-Ghamdi, lauded KSU's unyielding developmental drive and the University's impact on the Kingdom's elevation to a major role in world politics.
The British leader's positive impression of KSU and his suggestions of increased cooperation between British universities and KSU were warmly welcomed by his Saudi hosts in light of a speech the minister's speech last July at a Westminster educational forum. Mr. Willetts urged students to study abroad to gain credits toward their degrees, emphasizing that there should be "greater mutual recognition" of qualifications between countries.
The message would seem to beg the question: why not closer educational ties between Great Britain and Saudi Arabia?
In the same forum, Martin Davidson, Chief Executive of the British Council, said the reality of globalization is that it has no borders. "Not only does this build cultural fluency and the ability to work in differing environments," Davidson said, "but it also generates wide networks that form the basis of long-term partnerships."
The British minister's recent remarks were made receiving a tour from his Saudi hosts, a tour included a visit to the University's documentary exhibit of development programs and a number of advanced strategic projects. During the tour, Rector Al-Othman briefed the delegation on KSU's rapid advancement in international academic ratings since its founding in 1957 and the University's unprecedented gains in internationalization.
Related News