King Saud University's participation in the Eleventh British Invention, innovation and technology Show (BIS) in London on October 19-22, 2011 has netted 15 different awards in medicine, engineering, and science and information technology fields.
A prominent panel of 25 expert judges decided the awards. They evaluated the social and ecological benefits of the inventions as well as the originality, ingenuity and reliability. The hefty number of prizes and medals awarded to the KSU team is indicative of its scientific advances and its prominent standing among renowned international universities. In fact, the KSU delegation showed an impressive presence that singled it out among other participants from various countries.
The awards ceremony dinner in London was attended by Professor Ghazy Almakky, Saudi Culture Attaché in the United Kingdom and Ireland, as well as Dr. Ahmad Turkistani, Director of Cultural Affairs, Information and Public Relations at the Attaché office. Both officials lauded KSU's efforts to achieve advances in science to match the best international universities.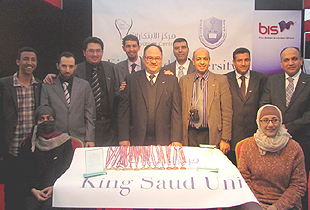 KSU won one Double Gold Shield, eight gold medals, two silver medals and three bronze medals.
Dr. Naif Alajlan, from the College of Computer and Information Sciences won a double gold medal with the gold medal, jointly with Researchers Salim bin Yussef and Salim bin Malik.
Dr. Yakoub Bazi jointly with Dr. Alajlan, Researchers Sayed Mohammad Ahmad and Mohammad bin Yaqoub and student Omar Abou Nayan from the Advanced Laboratory for Intelligent Systems Research (ALISR) in the College of Computer and Information Sciences won the double gold shield with the gold medal.
KSU also won two silver medals that went to Dr. Mohammed Bukhary from the College of Dentistry and student Abdullah Alrahaili from Preparatory Year.
KSU also won three bronze medals which went to Dr. Tariq Suleiman from the Deanship of e-Learning and Distance Learning and Dr. Lina Hammad from the College of Applied Medical Sciences and Dr. Fahad Bin Muhaya , jointly with Dr. Sad al-Hajj Bakri, Researcher Sayyid Ihtisham Hussein (?) from Prince Muqrin Chair for Information Technology Security
The Innovation Center in King Saud University had announced the contest and received the submitted innovation proposals on its electronic portal. These proposals were evaluated and the best were selected to compete because they complied with stringent criteria criteria. Interestingly none of the proposals had been submitted before in any foreign contest before.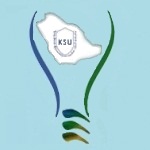 Dr. Naif Alajlan, assistant vice rector for senior studies and scientific research for innovation said that this achievement is a clear indication of KSU's plans   and aspirations, and is a result of the boundless support from Rector Abdullah Al-Othman and Vice Rector Ali Al-Ghamdi, who strive to give KSU innovation the best international exposure in view of marketing and promotion.
The First BIS event took place at London's Barbican Center in 2001
KSU's Innovation Center which coordinates KSU's participation in international exhibitions, under guidance of Dr. Ali Al-Ghamdi, KSU's vice-rector for senior studies and scientific research was established in 2008, to become the national focus for inspiration, innovation, and entrepreneurship. It acts as a bridge between students with bright ideas, companies, and faculty by providing adequate scientific assistance and resources to support new concepts and innovative ideas.
Related News