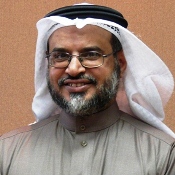 King Saud University Vice Rector for Health Specializations Dr. Mohammed Al Shehri visited King Abdulaziz University Hospital (KAUH) on January 10, 2012, to enhance communication between the vice rectorate and the various medical sectors of the university and to draft a strategic plan for the hospital and its various units.
Dr. Al Shehri was accompanied by Assistant Vice Rector for Health Specializations Dr. Essam Matar.
Upon Dr. Al Shehri's arrival, a meeting was held with KAUH leaders, including medical director Dr. Abdulrahman Al-Muammar, deputy medical director Dr. Ali Alnajashi, Diabetes Center director Khalid Al-Rubeaan, Ophthalmology Department chairman Dr. Saleh Al-Obeidan and ENT department chairman Dr. Saleh Aldhahri.
Dr. Al Shehri said that among his goals for the visit was to consult with officials about future prospects and plans to maintain the distinguished leadership of KAUH and its departments. He also wanted to know how the departments view the hospital's current status and what solutions they propose for any foreseeable difficulties.
Dr. Al-Muammar detailed KAUH's expansion plans, while the heads of the Diabetic Center, as well as the ENT and ophthalmology departments, summarized their units' programs and special services.
Dr.  Al Shehri then toured the hospital, visiting areas such as the inpatient, operations and emergency units, as well as the clinics, research centers and the speech and swallowing unit. Afterward, he pledged that communication between the vice rectorate and KAUH will continue in order to achieve KSU's objectives in health services, training, education, research and community service.
King Abdulaziz Hospital was founded in 1956 and became affiliated with KSU's College of Medicine in 1976.