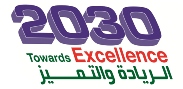 The Deanship for Development and Quality has launched a competition for research and informational documentary films, which are effective at spreading awareness of the
KSU 2030 Strategic Plan
and cultivating a culture of strategic planning among King Saud University students.
The competition, which is open to all students, supervisors or colleges, is being publicized throughout the University and the deadline for submissions is April 21, 2012
Dr. Salem S. Al-Qahtani, leader of the KSU 2030 project, says that strategic planning has taken on a key role for international institutions of higher education aiming to achieve leadership and distinction.
He noted that one the key objectives of KSU 2030 is for KSU to graduate eminently qualified students, who are familiar with the University's strategic plan and understand their own roles in raising academic and research standards at KSU, which will have a significant impact on the developing Saudi knowledge society.
He added that the documentary campaign will also will help students to consider their own individual strategic plans needed to achieve their goals.
Dr. Al-Qahtani said that entries may be emailed to the Deanship at: KSU2030@ksu.edu.sa
To contact the Deanship with questions about the competition, call 014798843
Dr. Al-Qahtani said the winners of the competition will be honored at a ceremony organized by the Development Deanship and will be awarded prizes.
In addition to setting policies, plans and programs, the Deanship for Development and Quality conducts studies for the development of KSU.
Related News