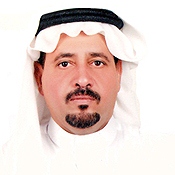 King Saud University education professor Abdulaziz A. Al-Sunbul recently was honored by Taibah University during its conference on continuing education and for his coordination of conference sessions and his research paper, "The Functions of Continuous Education in Fulfilling the Requirements of a Knowledge Society."
Upon being honored, Dr. Al-Sunbul expressed his gratitude to Mansour bin Mohamed Al Nazha, Taibah University Rector, and congratulated the university for opening its Deanship of Parallel and continuing Education.
Dr. Al-Sunbul is a strong supporter of the growth of education in the Arab world and has promoted the creation of continuing education centers throughout the Kingdom, in line with international trend calling for an increase of continuing education programs as a means of spreading knowledge.
His 2002 paper, Issues relating to distance education in the Arab world, published by the International Council for Adult Education (ICAE), is still an often cited work in studies on Arab education, and his English-to-Arabic translations of three books have been published by the Arab League's Organization for Education, Culture and Science (ALECSO).
The original English titles of these books are:
"The philosophical foundations of adult education,"
"Trends and issues in adult education" and
"Changing approaches to studying adult education."
His publications also include a book of poetry, a novel and a book on immigration which was published Lebanese University.
Professor Alsunbul recently was named vice president of  (ALECSO), one of many honors he has received.
Related News