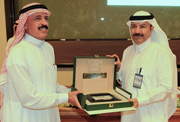 In a first-of-its-kind initiative, King Saud University's College of Science celebrated the 1st Research Distinction Day, in the presence of Dr. Ali Al-Ghamdi, Vice Rector of Graduate Studies and Scientific Research and Professor Abdulrahman I. Almansour, Dean of the College of Science, along with with vice deans, department heads and a number of faculty and researchers.
Dr. Ibrahim bin Ali Alareeni, secretary of KSU's Scientific Board, spoke about issues in scientific publishing, and Professor Abdulaziz A. Al-Khedhairy, assistant vice rector for Graduate Studies and Scientific Research, spoke about ISI-grade research publications.
Dr. Al-Ghamdi praised the establishment of Research Distinction Day and called upon other colleges to implement such an event. He said that KSU established a model for this ceremony last year when it began honoring distinguished researchers in a ceremony held under the auspices of KSU Rector Abdullah Al-Othman.
Dr. Al-Ghamdi added that the University endeavors to celebrate the achievements of its distinguished researchers, as they are a vital part of the University's commitment to excellence. Indeed, the Vice Rector noted that KSU published 2,200 research papers in 2011, compared with 500 five years ago.
"Forty-five percent of these 2,200 ISI-indexed papers are from the College of Science, and this number shows the positive impact of the National Plan for Science and Technology, which funded 40 percent of the College of Science research," Dr. Al-Ghamdi said, pointing out that 35 percent of the participants are from the College of Science.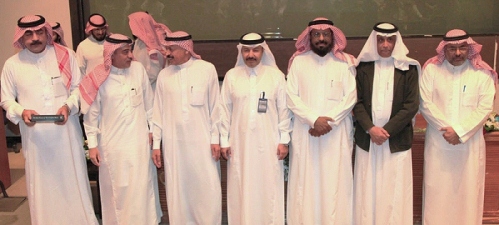 Dr. Al-Ghamdi added that the College, which is associated with the King Abdullah Institute for Nanotechnology (KAIN), has distinguished itself for its number of patents and for its quality publishing in the journals Nature and Science.
He said it is especially rewarding that these distinctions involve both male and female graduate students, and that in international competitions, the College has participated with flying colors, winning prizes for innovation in world-famous conferences in Malaysia, Britain and Geneva.
Dr. Al-Ghamdi said the major challenge is in achieving added economic value with the research produced. He said the College is capable of achieving this, adding: "When we look at the average scientific publishing, we find that KSU should boast of a minimum of 2,500 research papers. I hope that in 2012 and 2013 we will exceed this figure. KSU is relying on the College's distinction to exceed an output of 1,500 research papers."
Professor Abdulrahman I. Almansour, dean of the College of Science, praised the College for recently received German accreditation and is now celebrating Research Distinction Day, which corresponds with the 55th anniversary of the College's establishment. He said that for the past four years the College of Science has led the march of scientific research at KSU and that it has every right to celebrate its achievements.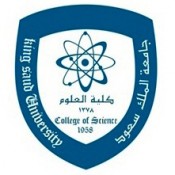 The College's Research Distinction Day has two main purposes: to recognize commitment toward producing knowledge through emphasizing the achievements of the College's researchers, and to trigger positive competition between members of the College to achieve more and more research distinction, in line with the university's drive toward international leadership.
Dr. Almansour likened the College's progression to a mountain climbing, from summit to higher summit. He said the College produced 600 indexed research papers in 2010 and 1,012 in 2011, some of which were published in the prestigious journals Science and Nature, for an increase of 68 percent. He said this number represents 45 percent of KSU's total output of research papers.
"As a College we can aspire to produce 1,500 research papers in the current year 2012, and I am sure that with God's blessing, my colleagues will achieve this aspiration," he said. "And I am also sure that these successes would have been impossible without God's grace and the generous support of the university administration, particularly Rector Abdullah Al-Othman."
Dr. Almansour also thanked Dr. Al-Ghamdi, the Vice Rectorship and Dr. Abdulhakim Al-Babtain, the College's vice dean for Development and Quality, for supplying the College with statistics on scientific publishing and the names of the College's distinguished researchers.
College researchers who have been published in Science and Nature are:
Related News