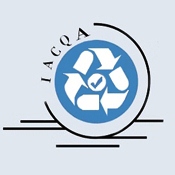 Members from King Saud University's Deanship of Quality played an integral role in the 2nd International Arab Conference on Quality Assurance in Higher Education (IACQA'2012) held April 4-5 at Bahrain's Gulf University.
The KSU delegation included Dr. Mahmoud Al-Wadi, Dr. Jabber M. Aljabber and Dr. Khalid Alkhathlan who co-chaired two of the conference's series of workshops. Dr. Al-Wadi, a conference founder and the former secretary, was honored during the two-day event that attracted 161 guests.
The IACQA Conference is a forum for scientists, researchers, and experts to present their latest research, results, ideas, developments, and applications in all areas of quality assurance in higher education. The conference is considered to be the official scientific conference for the Association of Arab Universities in the field of quality assurance in higher education.
IACQA 2012 addressed the importance of quality in higher education, particularly in view of world challenges and the necessity of matching the job market requirements with quality.
In particular, the conference addressed quality assurance standards of:
Academic Programs;
Academic Institutions;
Scientific Research;
Remote Learning; and
e-Learning.
The event also included discussions about Arab and International Experience in quality assurance, internal and external evaluation and academic licensing standards.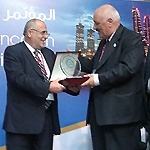 In addition to specialized training workshops and presentations, a panel session produced important insight, shared by the region's experts, as well as potential solutions to challenges in the field.
106 papers submitted were peer-reviewed by specialists in the field with the papers evaluation based on the importance and usefulness of the research topic. Technical merits, novelty of the approach, soundness of results, and clarity of presentation were also considered to be factors of the evaluation process. Each article was carefully refereed by a minimum of two specialized referees.
Dr. Adnan H. Nayfeh was another KSU faculty member involved with the conference. The international committee chair of KSU's College of Computer and Information Series, was a featured speaker on the day before the conference began. Dr. Nayfeh delivered a lecture and led a workshop focused on the systematic step-by-step approach to preparing engineering, computer and information sciences and technology programs for the Accreditation Board for Engineering and Technology (ABET) process.
Specifically, he defined the process by introducing and discussing in detail the nine specific ABET criteria needed for accreditation.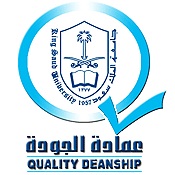 Overall, major topics addressed in the conference included:
Quality Assurance in Higher Education
TQM in Higher Education
Academic Institutions and Programs Licensing
Quality Awards and Certificates
Classification and ranking for Universities
In a final conference note, Zarqa University in Jordan – site of the inaugural IACQA Conference -- was selected to be the permanent residence for the event's secretary general.
Related News