King Saud University (KSU) College of Medicine will present the 5th Riyadh International Bronchoesophagoscopy and Laser Course on 28-29 April 2012. This very important course is sponsored by the King Abdulaziz University Hospital ENT (Ear, Nose, and Throat) Department, in collaboration with the Saudi Otolaryngology Society, and with participation by Gulf Medical Co. Ltd., the exclusive Saudi distributor of Karl Storz endoscopy equipment, as well as many other world-class medical equipment manufacturers.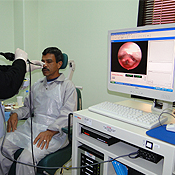 KSU College of Medicine and King Abdulaziz University Hospital (KAUH) have been proactive in the identification and use of the newest technologies for diagnosing and treating disorders of the head and neck. There have been many advances in technology since the First Riyadh International back in November 2005. For example, laser therapy is becoming much more common.
The organizing committee - comprised of Course Director Ahmed Y. Al-Ammar, Associate Professor, ENT Department, KAUH; Co-chairperson Dr. Manal Bukhari, Assistant Professor, ENT Department, KAUH; and Committee Member Dr. Mohammad Gaafar, Registrar, ENT Department, KAUH - have planned an ambitious two-day course.
Participants in this Fifth International Course will learn how to diagnose and manage endobronchial and endoesophageal abnormalties, and will be exposed to state-of-the-art endoscopic and laser equipment. Interest in the Course should not be restricted to ENT specialists. Literature reviews have shown that some disorders in the ENT area involve the digestive as well as the upper respiratory tract. Thus, there is a need for understanding across several medical specialty areas.
Leading training will be Dr.  Mohamed Farahat, who supervises King Khalid University Hospital's swallowing disorder unit and clinics and  is a member of the Research Chair of Voice and Swallowing Disorders (RCVASD).
Continuing Medical Education credit hours will be awarded per Saudi Council for Health Specialties guidelines. For more information, please contact Marivel De Guzman, Secretary, ORL Department, KAUH:
Telephone: (+966) 1 47 86100 extension 1624 /1627
E-mail address: mdeguzman@ksu.edu.sa
Professor Ahmed Al-Ammar is currently a consultant Otolaryngologist to KAUH, and Chairman of the KSU Fellowship/ORL Head and Neck Surgery Examination Committee. He received an MB BS (Bachelor of Medicine, Bachelor of Surgery) at KSU in 1989, and a DLO (Diploma in Otolaryngology) at KSU in 1993. He served a fellowship at KSU in Otolaryngology and Head and Neck Surgery in 1995, and fellowships in Pediatric Otolaryngology at the University of Montreal and McGill University (Canada) from June 1997 to June 1999.
Dr. Manal Bukhari is also a consultant Otolaryngologist to KAUH, and is a member of the scientific team of the Research Chair for Voice and Swallowing Diseases at KSU. He received an MB BS at KSU in 1996, a fellowship in otolaryngology at KSU in 2002, and a Phonosurgery Fellowship at Prince of Wales University Hospital, Sydney, Australia, in 2006.
King Abdulaziz University Hospital was founded as Prince Talal Bin Abdul Aziz Hospital in 1955. It was incorporated into the Ministry of Health in 1960, and into KSU in 1973, and designated as the Kingdom's first educational hospital in 1975. (The KSU College of Medicine had been established as the first medical college in the Kingdom in 1967.)
Gulf Medical Co., Ltd, was founded in 1983 to bring innovative, state-of-the-art medical technologies to Saudi Arabia and the Gulf. The Cigalah Group, a member of the Mohamed Yousuf Naghi Company, acquired Gulf Medical in 1992. The Group has four major divisions and companies – Consumer Product Division, Pharma & Healthcare Division, Watch, textile & Retail Division, and the Zawaq Foods Company. The Pharma & Healthcare Division established an ENT unit in 2002, following the signing of an exclusive distribution agreement with Karl Storz GmbH (Germany), the technology leader in the endoscopy world.
Related News