On Sunday, May 6, Dr. Ali Al-Ghamdi, King Saud University's Vice Rector for Graduate Studies and Scientific Research, welcomed a high-level delegation from Azerbaijan for talks on areas of cooperation between KSU and the Eurasian nation.
The delegation, led by Azerbaijani National Assembly Speaker Ogtay Asadov, was accompanied by the Saudi ambassador to Azerbaijan Fahd bin Ali Al-Dosari, and Saudi Shura Council member Dr. Mansour S. Al-Kredees.
The delegation was shown KSU's Permanent Documentary Exhibition and briefed on the university's programs and achievements related to its ambitious development plan. The delegation also visited the King Abdullah Institute for Nanothechlogy (KAIN) and was briefed about its objectives and products, including industrial applications such as solar-power generation and storage that have been manufactured at KAIN.
The visit concluded with a look at the Saudi Gazal-1, Saudi Arabia's first "home-built car", at the Advanced Manufacturing Institute.
Speaker Asadov emphasized that scientific cooperation should certainly be established between KSU and Azerbaijani universities, and he praised the Saudi government's support of his country. He pointed out that ever since its independence in 1991, Azerbaijan has striven to boost its ties with the Islamic world, particularly Saudi Arabia.
This week, Mr. Asadov and his entourage were received by H.R.H. Crown Prince Naif bin Abdulaziz Al Saud at the Royal Court, where they discussed common interest issues, and reviewed the bilateral relations between both countries.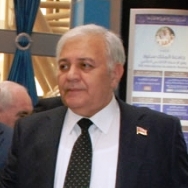 Asadov is the head of the Azerbaijani delegation to the Inter-Parliamentary Assembly of the Commonwealth of Independent States (CIS), which was created in December 1991 after the dissolution of the USSR. He is also the head of his country's delegation to the Parliamentary Assembly of Turkic-speaking Countries (TÜRKPA).
Azerbaijan was part of the USSR for much of the 20th century, initially enjoying independence only from 1918 to 1920. It gained its independence from the USSR on October 18, 1991, and Saudi Arabia officially recognized its independence on December 31, 1991. The two countries established diplomatic relations on February 24,1992, and Azerbaijan became a member of the United Nations on March 2, 1992.
The Azerbaijani-Saudi relationship continued to develop, highlighted in 2005 by a visit to the Kingdom by Azerbaijani President Ilham Aliyev and later by reciprocal visits by governmental delegations. A memorandum of understanding was signed between the education ministers of the two countries in Azerbaijan's capital, Baku, and in January 2007, a Saudi delegation lead by the Saudi Minister of Higher Education visited Baku, Azerbaijan's capital city .
In April of this year, Grand Mufti of the Caucasus Allahshükür Hummat Pashazade, visited Saudi Arabia. During this visit, he signed a protocol with Bandar bin Mohammed Al-Hajjar, Saudi Arabia's Minister for Hajj, regarding provisions for Azerbaijani pilgrims to visit holy sites in Saudi Arabia by train and for the landing of aircraft carrying Azerbaijani pilgrims.
Related News