King Abdullah received much praise for his support of education in Saudi Arabia at the recent dedication of Phase One of Saudi Arabia's University Cities Project. The King also laid the cornerstone for Phase Two of the project, which will cost SR 81.5 billion ($21.73 billion) and will include King Saud University's city for female students.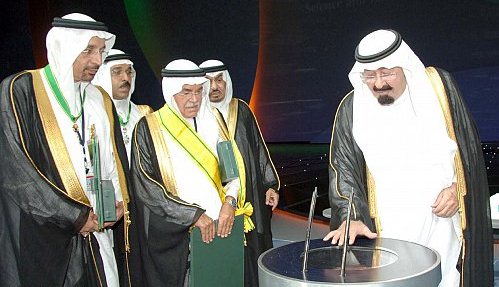 The ceremony was held April 30, 2012, at Al-Yamamah Palace in Riyadh, during which Minister of Higher Education Dr. Khalid Al-Angari explained that the project involves the construction of 18 university cities and academic complexes for male and female students across the Kingdom, along with the construction of 12 3,800-bed university hospitals.
Several KSU senior administrators, including Vice Rector for Graduate Studies and Scientific Research Dr. Ali Al-Ghamdi, Vice Rector for Educational and Academic Affairs Dr. Abdullah Al-Salman; Vice Rector for Health Specializations Dr. Abdulrahman Al-Muammar; Vice Rector for Business Development Dr. Mohammed Al-Sudairi; and Khalid bin Fahad Al-Shadi, the KSU rector's adviser for engineering projects, spoke highly of King Abdullah's support of education in the Kingdom.
Dr. Al-Ghamdi praised the boundless support of higher education by the state, pointing out that the KSU city for female students is one of the strategic projects inaugurated by the King in 1430H, at the cost of 8.3 billion SR ($2.21 billon).
He said the university wanted to establish this city in keeping with the Saudi leadership's resolve to focus more the education of females and encourage their participation in the Kingdom's development.
Dr. Al-Ghamdi also said that the KSU city for female students alleviates several problems: that female students on the Malaz and Olaysha campuses do not having sufficient accommodations and services; that their distance from the Diriya campus keeps them from making full use of that campus' facilities; and the inability of the university to accept the increasing numbers of female students.
Dr. Al-Salman said the best investment is the investment in human talent and that supporting universities and their constituents would lead to the growth of the national economy. He pointed out that universities are the gateway to a knowledge-based economy, contribute to human development, are a catalyst of scientific advancement in the Kingdom and are the building blocks of national development.
Dr. Al-Muammar called the dedication of Phase One of the University Cities Program a historic day.
"The real richness of this country is its young sons and daughters, and investing in developing their skills and aptitude is the way to build a citizenship capable of supporting the Kingdom, economically, socially and culturally," Dr. Al-Muammar said. "The projects inaugurated by the Custodian of the Two Holy Mosques will offer greater opportunities to the increased numbers of applicants to join KSU and will provide them with a superlative work and study environment, resulting in higher academic production. Moreover, these university cities will provide employment opportunities for our countrymen."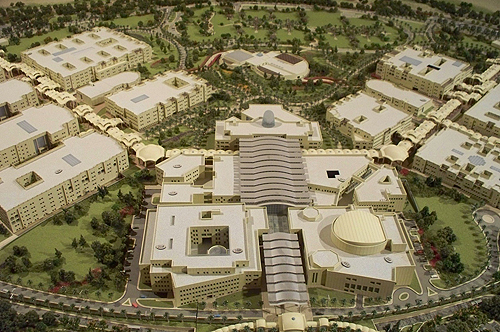 Dr. Al-Sudairi said the University Cities Project in various parts of the Kingdom and the laying of the cornerstone for Phase Two are a catalyst toward a knowledge-based society and knowledge-based economy that aim for the stars and spread welfare to its people.
"Our visionary King has patiently, diligently, wisely and generously led the transformation of the Kingdom to a beacon of light and knowledge that never sleeps," Dr. Al-Sudairi said. "An indication of our King's concern for higher education is the unprecedented budget allotted to education in the Kingdom, an indication of his belief that education is the builder of human capital and sustainable development.
"We reap the results of our wise leadership's generous support for education all over the Kingdom. We are on the threshold of a bright new tomorrow. Sixteen university cities have completed their first phase and will soon start Phase Two. These university cities are home to 166 colleges, 161 support and infrastructure projects, 10,841 housing units and 12 university hospitals with a capacity of 3,800 beds.
"The inauguration of Phase One for the university cities, including one for female students, comes amid KSU's relentless drive to fulfill its international leadership aspirations. The female students' university city will be a major component of this drive, thanks to the instrumental support of our wise and caring leadership, a support that manifests itself in a multitude of projects."
Engineer Al-Shadi, speaking in detail about the project, said KSU's University City for Girl Students aims to provide to an integrated academic community for all female students in the humanities and scientific and medical specializations. He added that the university also aims to transfer and consolidate advanced teaching technologies and scientific research processes in the Kingdom and encourage research, innovation and invention to enrich scientific research in the Kingdom to achieve distinction in research and development in a knowledge-based economy.
He said the University City for Girl Students will be located east of the main Diriya campus, on the first Prince Turki Highway. The project covers approximately 1,333,000 square meters, including an 870,000-square-meter building area. The city can accommodate 30,000 female students plus academic personnel and faculty. The project is considered an essential addition to higher education in the Kingdom and a natural expansion to KSU that can match the largest educational institutions in the world in respect to comprehensiveness of curricula and preparation of students.
KSU's University City will be fully equipped with scientific and technical facilities and advanced workshops to serve the female students, and the buildings will offer both security and privacy, with a service tunnel for maintenance work of the buildings to completely separate the male and female areas of the campus. Female KSU staff members will be trained in the operation of all facilities and equipment and to carry out regular maintenance work for the buildings without having to call in male staff members.
The training program supports the university's goal to move from a traditional; teaching environment to one that is interactive and provides interaction between male and female sections.
All buildings will offer e-learning and distance-learning capability and will apply smart-building concepts, including smart ID cards and digital announcements and information booths. Nerve center rooms, connected to a main control and management room in the heart of the city, will be available for faculty to have remote control and management of resident technologies.
To fulfill KSU's goal of equaling the most advanced technologies, the information and communication systems will be compliant with the most stringent international standards. A computer-controlled communication network will include a data bank, telephone communications, building control and the SCADA (Supervisory Control and Data Acquisition) system, which is used to remotely monitor network infrastructure..
All buildings will have high-speed Internet access, with wireless Internet access spots in all units and divisions of the city in line with ultramodern technological advance. All Internet connections will be monitored for security The University City for Female students houses all activities divisions and educational buildings of the main campus, and will include:
University administration buildings
Administration and Graduate Studies Deanship
Female students administration and university restaurant
Central Library
Ceremony and exhibition hall
Main university lounge and central yard
Student activities, commercial spaces and prayer hall.
Humanities Colleges buildings
College of Art
College of Education
College of Administrative Science and Business Administration
College of Languages and Translation
College of Law and Political Science
Amphitheater and general preparation
Medical Colleges
College of Pharmacy
College of Medicine
College of Dentistry
College of Applied Medical Sciences
College of Nursing
Prince Naïf Research Institute and Central Lab
Science Colleges
College of Science
College of Computer and Information Sciences
Amphitheater building
General and services buildings
Main pathway for female students
Athletics club
Nurseries
Central services buildings
Sewage water treatment plant
Central kitchen
Dr. Al-Shadi closed by expressing deep thanks to Minister Al-Angari and KSU Rector Al-Othman for their guidance of the project. He also thanked all those who contributed to its success.
Dr. Einas Al-Eisa, dean of KSU's Center for Female Scientific and Medical Colleges in Al-Malaz, also expressed gratitude to the Custodian of the Two Holy Mosques. She said the inauguration of Phase One manifests his concern for education in the Kingdom and his concern that Saudi women play a major part in the service and development of the Kingdom. She said the University City for Girl Students would provide the appropriate environment to build a citizenry able to face the challenges of the future.
She added that the City will fulfill the university's strategic objectives and will adapt to the changing demographics with the increasing numbers of students applying to enroll in KSU. She said the City would serve to attract the best students to KSU and would constitute a social professional institution producing knowledge to serve the Kingdom. She said this would require the participation of all sons and daughters of the Kingdom.
Related News