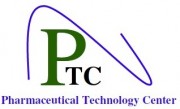 On Monday, May 28, King Saud University welcomes two international pharmacology experts, who will speak at a three-hour workshop on "U.S. pharmacopeia updates".
The event will begin at 9 AM in the College of Pharmacy's main auditorium.
The speakers are Dr. Rabindranath Patnaik, a KSU assistant professor and advisor/consultant for the generic pharmaceutical industry, and Dr. Roger L. Williams, CEO of the United States Pharmacopeial Convention (USP).
The knowledge-based workshop is being organized by KSU's Pharmaceutical Technology Center (PTC), a research chair fully sponsored by Dr. Walid Amin Al-Kayyali, and will provide pharmaceutical scientists, students and pharmacists with an update on U.S. Pharmacopeia and medicinal drug products from a regulatory and scientific perspective. Dr. Williams' theme is Medicinal Products: Regulatory and Compodia Overview, while Dr. Patnik's topic was Medicinal Products: Quality and Performance.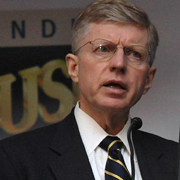 Their addresses will be followed by a discussion period.
In addition to his role with USP, Dr. Williams also serves as the chair of the council of experts, USP's scientific standards-setting body, which continuously revises the United States Pharmacopeia, National Formulary and the Food Chemicals Codex. Under his supervision, USP's conducts an outreach program to many national and international bodies that share USP's public health mission. He has represented USP in the organization's relationship with the World Health Organization.
Dr. Rabindranath Patnaik is a multi-disciplinary scientist with extensive experience in biopharmaceuticals, specializing in multisource drug products. Dr. Patnaik worked at the U.S. Food and Drug Association in various capacities in the Office of Generic drugs at the Center of Drug Evaluation and Research, serving as the associate director of the Office of Generic Drugs for Bioequivalence and was a representative to the World Health Organization before leaving the FDA.

After leaving the FDA, Dr. Patnaik worked as the Executive Director of Biopharmaceuticals at a specialty global pharmaceutical company in the United States. During his tenure, he was responsible for developing and testing multisource and specialty drug products for marketing authorization in various countries.
This Center is established under the hospice of Pharmaceutics Department, College of Pharmacy at King Saud University. To support and strength the research activities of this Center, The Pharmaceutics Department had devoted all its Industrial and Research Labs- Facilities, Instruments, Scientific capability, Staff Expertise and Knowledge.
In addition to a strong scientific committee, and in order to be sure that its research is matching the latest international trend, requirements and quality, the Center has contracted Dr. Mahmoud Takieddin as a Chair Professor and Dr. Adel Sakr as an International Advisor.
The workshop, according to workshop organizers, would benefit pharmaceutical and regulatory scientists, industrial pharmacists, chemists, biochemists and equipment and chemical suppliers.
The workshop is free, but those who haven't registered are asked to R.S.V.P. through Dr. Kazi Mohsin at mkazi@ksu.edu.sa by May 20.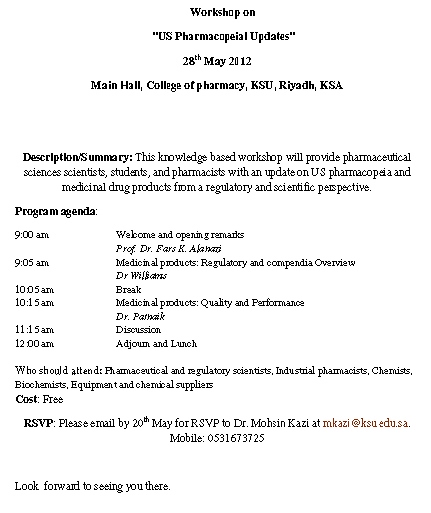 Related News