A team from King Saud University's Vice Rectorate for Graduate Studies and Scientific Research recently visited the DRUPA 2012 printing equipment trade fair in Düsseldorf, Germany.
The fair, held through May 16, attracts the major printing companies with their latest products and printers from all over the world, who flock to discover new printing technologies and products.
The KSU delegation consisted of:
Vice Rector for Business Development Dr. Mohammed Al-Sudairi;
Supervisor of Academic Publishing and Press Administration Dr. Ali bin Mohammad Al-Turki;
Director General of Academic Publishing and Press Administration Saleh bin Abdullah Ismail;
Printing press director Mohammad bin Abdulaziz Al-Dakheel; and
Printing press technician Mandeel Bneider Safouq A-Hizal.
The visit was in keeping with Dr. Al-Sudairi's goal to stay abreast of developments in the printing field as KSU continues to search for cutting-edge ways to present the university's academic products to meet the expections of researchers and others interested in KSU's scientific output and to build toward a knowledge-based society and economy through scientific publishing locally and internationally.
KSU chose two Heidelberg Speedmaster printers, which will be the most advanced in the Kingdom. The two rather massive machines, to be installed at KSU within the next 6 months, have some impressive capabilities, such as:
Production speed of up to 15,000 sheets per hour;
Intellistart process-oriented operator guidance system for exceptionally user-friendly operation;
Outstanding register accuracy; and
High-capacity inking unit.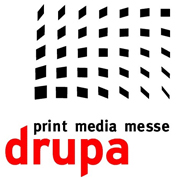 DRUPA (from the German "druck und papier", meaning "printing and paper") is the largest printing equipment exhibition in the world and is held every four years in Düsseldorf.
Heidelberger Druckmaschinen AG (English: Heidelberg Printing Machines AG) is a world-famous precision mechanical engineering company with headquarters in Heidelberg, Germany. The company is the largest global manufacturer of printing presses and produces more than 47 percent of offset printing presses sold worldwide. Sheet-fed offset printing is used predominantly for high-quality multicolor products such as catalogs, calendars, posters and labels.
The company was established in 1850 by Andreas Hamm as a bell foundry and machine factory in Frankenthal, Germany. It moved to Heidelberg in 1896.
Related News