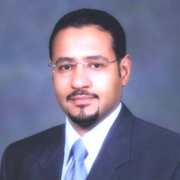 The 1st annual Ophthalmology Review Workshop at King Saud University will be held July 10-13, 2012, as announced by the course director, Dr. Yasser Al-Fakey.  The workshop will take place in the main auditorium of Building 1 on Level 4 at King Abdulaziz University Hospital.
The review, intended for ophthalmology residents, fellows, and practicing ophthalmologists, is accredited for 24 Continuing Medical Education (CME) hours by the Saudi Council for Health Specialties.  Objectives of the review, which is exam oriented, include a concise overview of key topics topics and recent developments in ophthalmology sub-specialties, as well as the clinical aspect of ophthalmologic diseases (tips and the pitfalls).
Dr. Al-Fakey has been Assistant Professor and Consultant of Ophthalmology, Oculoplastic Division, at King Abdulaziz University Hospital since August, 2002.  He is a graduate of Assuit University, Asyut, Egypt, and did graduate work there and at both Cambridge University and the University of Glasgow in the United Kingdom.
Dr. Al-Fakey's post-graduate work includes surgery procedures in oculoplastics, cataracts, glaucoma, strabismus, and retinal detachments.  He also has post-graduate work in ophthalmologic trauma, laser surgery, and the use of auxiliary diagnostic tools, such as ultrasonography, the handling of the fundus camera, and experience in handling Optical Coherent Tomography (OCT3).
For further information and to register, contact Michelle B. Rasonabe, Department of Ophthalmology, King Abdul Aziz University Hospital, Riyadh, Saudi Arabia; telephone  +966 1 4786100, ext. 1432, or FAX  +966 1 4775731.
Cost for the workshop is SR 1000.
Related News