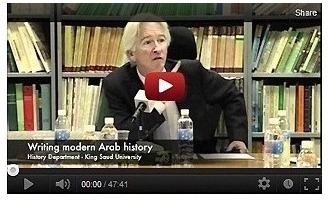 The Department of History in KSU's College of Arts has launched its own YouTube channel, which will serve as an invaluable archive of lectures by history faculty and visiting professors, as well as conferences and special events sponsored by the KSU History Department. With this channel, the Department is providing KSU, the Kingdom and the world with unique historical resources and perspective through its extensive collection of both Arabic and English  presentations.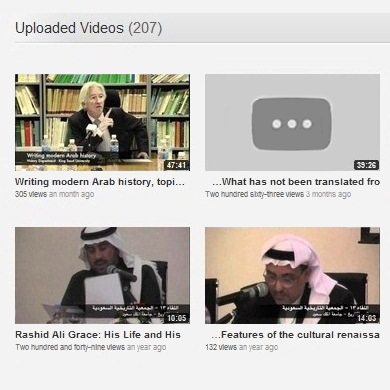 The Website was launched featuring an April 17, 2012 video of Professor Eugene Rogan, Director of the Middle East Centre at Oxford University, addressing a Saudi audience about his book The Arabs: A History. This lecture, entitled "Writing modern Arab history, topics & challenges: A Western point of view", provides thought provoking insight into how Arabs have lived and experienced  the modern period.
Other videos on the new website include a series of lectures by Boston University Professor Thomas F. Glick, who provides a historical look at science and technology in the Islamic world; in addition, there are numerous lectures from the 2010 International Symposium on the Historical Relations Between Arabia, the Greek and Byzantine World, which was hosted by KSU.
The Department of History was established in 1957-1958 and went through various stages. One of the main aims of its curriculum is to provide historical knowledge of various subjects so that students may be familiar with the main factors that influenced human history in general and Islamic and Arab history in particular.
The department's curriculum includes the following:
    The Ancient History of the Arabian Peninsula and the Near East
    Roman, Greek and Mesopotamian Ancient History
    Medieval History
    Islamic History
    Modern History and the New World
 The Department awards BA, MA and PhD degrees. The first MA degree was awarded in 1977, and the first PhD was awarded in 1413H. The Department hosts the International Forum for the Studies in the History of the Arabian Peninsula, and is the seat of the Saudi Historical Society.
http://www.youtube.com/user/HIST0KSU