King Saud University, through the support of the Kingdom's Ministry of Higher Education, has implemented an electronic admissions portal for deaf students or students with severe hearing impairments.
The program is available to male and female students applying for admission at KSU after having graduated from Al-Amal institutes, integration programs and general education programs within the University's habilitation program.
Prospective students may continue to apply for admission using the portal through Sunday, August 5, with those who qualify then required to take an admission test. The names of those who qualify and the criteria for admission into specific colleges and majors will be posted on the portal.
Personal interviews for those who pass the test will be announced Tuesday, August 28, also on the electronic portal.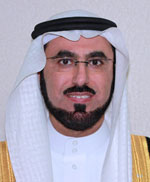 Dr. Abdullah Al-Salman, KSU Vice Rector for Educational and Academic Affairs said that KSU and its Rector Badran Al-Omar seeks the best teaching opportunities for all students including those with physical impairments all students because University officials believe in their potential to pursue a university education.
He said this faith is based on the success of physically impaired KSU graduates.
Dr. Tarek Al-Rayes, KSU Dean of Students and the electronic portal program supervisor, said the program has a profound impact on answering the needs of all prospective college students. The integration of people with disabilities into regular schools was devised late in the Twentieth Century by the United Nations, with the intent of providing them an education and making them feel part of the community.
Related News