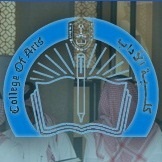 KSU Rector Badran Al-Omar visited the College of Arts earlier this month during a tour of the University's colleges, to assess their readiness for the new academic year and to be apprised of the problems they face and the progress of work. Dr. Abdullah  Al-Salman, the Vice-Rector for Educational and Academic Affairs, accompanied him. Professor Saleh Mued Al-Ghamdi, Dean of the College of Arts, received the Rector and Vice Rector along with college vice deans and heads of departments.
The Rector began his tour by visiting the academic guidance unit and was informed of the services it provides to students, particularly the newcomers. He was informed of the courses organized by the unit to benefit the new students as well as the available student clubs. The Rector then visited the computer lab and the university documentation unit and was glad to discover the broad range of services presented by the documentation unit, which records and preserves films of all KSU activities, for posterity.
The Rector also visited the broadcasting studios which serve the female students, then visited the offices of the university newsletter, "Risalat Al-Jamia, and the video weekly report unit and listened to the supervisor of the newsletter Dr. Ali Alkarni, then moved to the divisions of media, and Arabic language and literature. After that the rector visited the Social Counseling Unit (Maak) were he listened to detailed explanations abut the unit's services to KSU members and to society, then headed to Student Affairs to check on student registration and any problems they are facing. Then he met with the College Council members in their office.
The Rector also toured the College of Tourism and Antiquities and was met with its Dean Dr. Said Fayez Al-Said. He inspected the archeological museum of the College and its collections and also toured its divisions and academic units. In the end, he met with the college officials, thanking them for their efforts to fulfill the college's objectives.
Related News