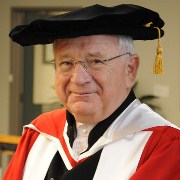 The man described as "one of the fathers of vascular biology," Dr. Paul M. Vanhoutte, Md., Ph.D., will be the guest speaker today (September 17) in the King Saud University Department of Pharmacology's main auditorium at 11 a.m.
The chair director of the University of Hong Kong University's Bio-Pharmaceutical Development Center and an international leader in the field of endothelial and vascular biology, will deliver a lecture entitled Endothelin: From the Bench to the Bedside and Back in which he'll discuss recent research in endothelin.
Endothelin are proteins that normally kept in balance by other mechanisms but when over-expressed they constrict blood vessels and contribute to high blood pressure (hypertension) and heart disease.
Professor Vanhoutte is past president of the International Union of Pharmacology (IUPHAR), one of more than 20 international organizations and societies of which is or has been a leader or prominent member. He is a noted researcher in three categories: biology, Chemistry, pharmacology and clinical medicine and has assisted some of the world's most acclaimed medical facilities including the Mayo Clinic in the U.S.
The acclaimed professor is so respected that he has an international award in his name presented biennially to an individual who has exhibited the traits of Dr. Vanhoutt in endothelial and vascular biology and through extensive mentorship in the field.
In a career spanning nearly four decades, his reputation has attracted the international attention of countless physicians and researchers. In 1978, after Dr. Robert Furchgott, a Nobel Prize recipient, discovered substances in the endothelial cells that relaxed the blood vessels – derivation of the endolthelium-derived relaxing factor (EDRF) -- Dr. Vanhoutte examined the endothelial function in several disease states and translated the late Dr. Furchgott's findings into pathophysiology and physiology.
His resume also includes authorship, co-authorship and editing of approximately 40 books and the publication of more than 550 papers. He has become one of the most popular figures on the medical lecturer circuit.
Related News