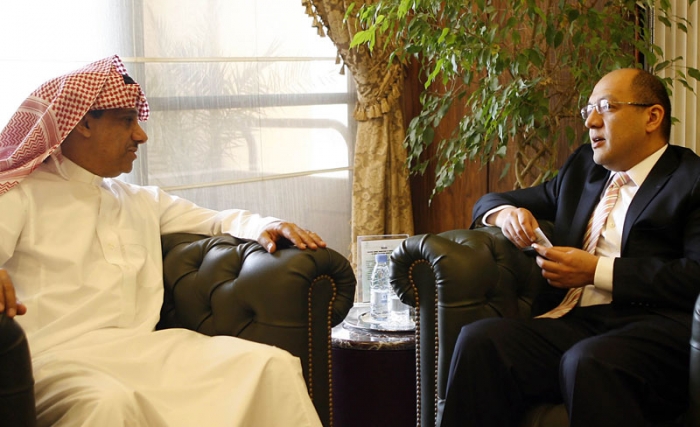 Philippines Ambassador to the Kingdom of Saudi Arabia and Yemen, Ezzedine Tago, was greeted recently by King Saud University Rector Badran Al-Omar at KSU where the two discussed both countries' educational renaissance and other relevant issues.
Dr. Al-Omar and Mr. Tago certainly had much to discuss considering the Filipino influence in Saudi Arabia since 1973 when a large group of Filipino engineers migrated to the Kingdom. Today, Saudi Arabia has approximately 1.1 million Filipino immigrants, and 24 Filipino international schools have been established in the Kingdom, 18 close to Jeddah and Riyadh.
Earlier this year, Ambassador Tago announced that Dr. Khalid Al-Angari, Saudi Minister of Higher Education, had earmarked 150 graduate courses for Filipinos in various universities in the Kingdom, including KSU. Many Filipinos are working in technical and administrative positions in Saudi universities and the Kingdom has welcomed them to apply for graduate level courses.
Six Filipino graduate students already were attending King Abdullah University for Science and Technology (KAUST), other Filipinos were participating in Islamic studies at Makkah and Madinah universities, and several others were studying abroad through Saudi scholarships.
Mr. Tago, who speaks fluent Arabic, completed his secondary degree from the Philippine School in Jeddah in 1988 and moved on to the University of California-Davis where in 1994 he earned his Bachelor of Arts degree in political science. He was assigned to Riyadh as vice consul (1999-2003) and returned to Jeddah where he was the Consul General from December 2007 to August 2011.
In 2011, he became the youngest ambassador in Philippines history to represent the country on a foreign mission. Since his appointment in October of last year, he has worked diligently to enhance working and social relations between the Filipino expatriates and Saudi people. He also became the Philippines Ambassador to Yemen last February.
Filipinos began migrating to the Middle East in the 1970s, when Philippine officials were emphasizing emigration because of the country's high unemployment rate. In 2008, Saudi Arabia submitted 300,000 job orders for Filipinos, and between 2009 and 2011 the Saudi government incorporated 6,000 doctors and nurses into its work force.
Today, more than 2 million of the 10 million Filipinos working abroad have settled in the Middle East and the rapidly-expanding Kingdom has absorbed the vast majority. Saudi Arabia, with a population of more than 27 million, is the largest hirer of Overseas Filipino Workers (OFW). In addition to medical and scientific roles, Filipino expatriates include workers in the automotive industry, construction, engineering, water desalination, petroleum production and processing, telecommunications and transportation.
Related News