The King Saud University College of Medicine's Clinical Skills and Simulation Center (CSSC) will soon receive a visit from a delegation from the American College of Surgeons (ACS) as a preliminary step in accrediting the center and its programs as a first-rate medical center.
Part of the KSU Department of Medical Education's strategic plan is to make the CSSC the best of its kind in the Middle East.
Department Director and CSSC Director Dr. Sami A. Alnassar said the visit is in response to the quest to improve CSSC's educational services, in compliance with the directives of Dean of Medicine Dr. Mubarak  Al-Faran to make KSU an international leader in medicine.
Dr. Alnassar said accreditation and cooperation between the College of Medicine and the American College of Surgeons will have a positive impact on the development of medical curricula at the CSSC.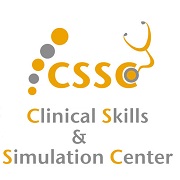 The CSSC, located in King Khalid University Hospital, was founded on March 31, 2012. The center's mission is to provide an innovative learning environment for physicians, nurses, allied health professionals and students within the community by integrating medical simulation-based teaching methodologies into the educational curriculum.
The American College of Surgeons, founded in 1913, is dedicated to improving the care of the surgical patient by setting high standards for surgical education and practice.
The following are some major activities of the College:
Sponsoring continuing medical education programs to help surgeons keep abreast of the latest information on surgical subjects;
Conducting various programs through its Commission on Cancer to improve the care of cancer patients;
Encouraging hospitals to develop programs for optimal care of cancer patients and to seek, on a voluntary basis, College approval of these programs;
Through its Committee on Trauma, it works to improve the care of injured and critically ill patients - before, en route to, and during hospitalization;
Sponsoring organization for the Residency Review Committees for Colon and Rectal Surgery, Neurological Surgery, Otolaryngology, Plastic Surgery, Surgery, Thoracic Surgery, and Urology;
Supporting postdoctoral education in surgery through several scholarship programs;
Through its Office of Public Information, it provides general information to the public about surgeons and surgical care. A patient education Web site, which was developed by the College's Division of Education, helps individuals contemplating elective procedures make informed decisions about surgical care, and provides a variety of resources on frequently performed surgical procedures and related issues; and
The College has developed the Surgical Education and Self-Assessment Program (SESAP®) to provide practicing surgeons with an excellent resource for lifelong learning.
Related News