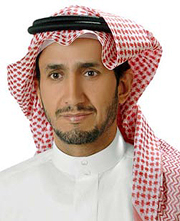 King Saud University's was recently awarded a United States Patent for a "fluid pressure spike" suppression device, which was invented by Dr. Abdulrahman Al-Khomairi, an Associate Professor of civil engineering in KSU's College of Engineering.
The invention is considered a means of dealing with sudden increases of fluid pressure, or in some conditions gas, a phenomenon is called "water or fluid hammer" which occurs when sudden opening or closure of a control valve or tap causes a pressure spike in plumbing, forcing moving fluids to suddenly stop or change direction. The device is designed to minimize the pressure spike of fluid pressure by more than 80 percent and lower water costs. The design includes of a relatively short length of a tube that is flexible and has much larger diameter than the tube connecting at the point of high pressure – for example, the valve -- so it will expand or shrink diagonally, absorbing shock and reducing hydraulic pressure. To raise the efficiency of the device for some applications, air balloons can be used with different internal pressure to suit different operating conditions. These balloons make the device ideal for the most difficult conditions.
The device, which prevents fractures and leaks, is versatile and cost-efficient for a variety of domestic, commercial, and industrial networks. It also can be used with thinner pipes, once again lowering cost by absorbing sudden rises in pressure. The device will help prolong tube life by reducing the rates of vibrations during daily use. In experimental use, the flexible tubes and balloons show a distinct ability to absorb sudden pressure spikes.

Dr. Khalid Al-Saleh, supervisor of Intellectual Property and Technology Licensing (IPTL) Program, said that after researching and evaluating the patent application, IPTL authorized an international law firm to submit it to the U.S Patent Office.
King Saud University is dedicating this invention to the national water company for use in experiments to offset weaknesses in the water pipe system connecting Jubail, a Persian Gulf in Saudi Arabia's Eastern Province, to Riyadh, as well as other networks within the Kingdom. Aramco believes that the device can also use the device for its extensive oil pipeline system and the IPT licensing program is ready to cooperate.
Related News