Kind Saud University Rector Badran Al-Omar greeted Rectors from several Korean universities during their recent visit to KSU.  Discussions were held to designate various venues of cooperation among the universities to attempt to find the best ways to serve education in both countries.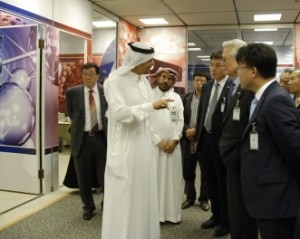 The Korean delegation was given a tour of KSU and visited the permanent documentary exhibition for its developmental program.  Visits were also made to the Prince Salman Entrepreneurship Institute, the King Abdullah Institute for NANO Technology (KAIN), and the Advanced Industrial Engineering Institute.  At each site, a description was given regarding the activities and services offered by the institute.
At the end of tour, Rector Al-Omar presented each of the visitors with a memorial shield.
KSU and Korean universities have long maintained strong ties.  In October of 2010, KSU and South Korea's Kookmin University extended a previous general cooperation agreement for two more years, authorizing a Saudi-Korean project to develop systems for designing and manufacturing lightweight automobiles.  In that agreement, training was to be provided for students of both universities on automobile engineering and manufacturing techniques.
On October 25, 2010, KSU officials signed an academic and research partnership agreement with Seoul National University.  The goals were to develop research, academic and teaching cooperation between the two universities, as well as to facilitate faculty and student exchanges.
In December of 2010, KSU signed a cooperation agreement with the Korean company, Digm Automotive Technology, Inc., for the establishment of a $500 million car manufacture in Saudi Arabia.  KSU's rector at that time, Dr. Abdullah Al-Othman, stated, "In joining Digm, KSU partners with a distinguished pioneering company."  He also said that the agreement allowed KSU to become an investor and fulfill one of its main objectives, namely to be able to generate its own income.
Related News