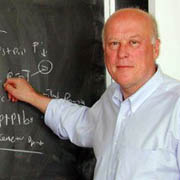 International expert in assessing academic curricula, Dr. David Y. Thomas, recently presented a workshop at King Saud University's Biochemistry Department in the College of Sciences.  The workshop, held December 3-6, 2012, was titled, "Academic Curricula: A Review towards Distinction."  Participants came from as far away as the United States, Canada, and Korea.
Dr. Thomas is Chair of the Biochemistry Department at McGill University, Montreal, Quebec, Canada, and is also the holder of a tier 1 Canada Research Chair in Molecular Genetics.  He obtained his Ph.D. in genetics from University College in London and worked at the National Institute for Medical Research in Mill Hill, U.K.  He has also worked on the isolation of eukaryotic genes at the Department of Genetics, University of Washington in Seattle, and at the Institute for Genetics at Ludwig Maximilian University, Munich, Germany.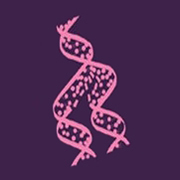 The workshop was organized by the College's Administration of Academic Affairs with the goal of identifying the strengths of the academic curricula to eventually match with international quality standards and job market demands.  These things would then enable the College to better serve the community and also students enrolled in College of Science programs.
The workshop attempted to define the real challenge of higher education, said to be the ability to change curricula to enhance progress in science and technology and therefore increase the economic value of the curricula and graduates; to recognize modern trends and changes in higher education so curricula adjustments can be made; and to establish environmental programs to attract distinguished researchers that are a match to similar programs in other prominent international universities.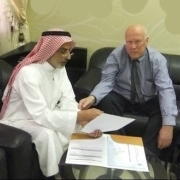 On the opening day, several international experts related the experiences of their universities in assessing and changing curricula.  Several KSU students also participated, taking part in a session evaluating the College's current situation along with the prospects for the future.
During the workshop, Dr. Thomas met with faculty and students of the various departments of the College to appraise curriculum, academic plans, current equipment, methods for implementing changes, and means to evaluate progress.  He discussed how all these are factors can be used to develop a generation of national talent able to cope with the changing international job market.
Related News