The King Saud University Translation Center recently conducted a discussion session dealing with John J. Mearsheimer's book "The Tragedy of Great Power Politics."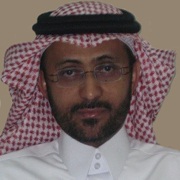 The discussion, held in the Educational Rest Lounge at Prince Salman bin Abdulaziz Library, was attended by Center Director Dr. Bander  Alotaibi and Dean of Library Affairs Dr. Saud L. Al-Rowaily. The meeting was the third held in this academic year's Culture Café, organized by the Translation Center in cooperation with the Deanship of Library Affairs. The Translation Center regularly invites experts and book aficionados to its Culture Café.
The book was translated for the Translation Center by Dr. Mustafa A. Gassem.
The Center agreed to the translation because of  the book's importance, as it explains several major historical periods, namely the three longest and bloodiest wars in modern history: the French Revolutionary-Napoleonic Wars, World War I and World War II, all of which involved all of the major world powers.
The book also explains the relatively long periods of peace in Europe, in 1816-1852, 1871-1913 and, particularly, 1945-1990, during the Cold War.
The Translation Center is an administrative entity directly affiliated with the Academic Council and the Vice Rectorate for Graduate Studies and Research. The Center's operations are supervised by officials and faculty members from various academic areas within the University.
The Center strives to meet the following objectives:
Encourage faculty and staff to translate books, reference materials and research literature
Promote and support the Arabization of academic materials by standardizing, unifying and disseminating academic terminologies.
Establish a schedule for the translation or Arabization of textbooks and reference materials needed at both the undergraduate and graduate levels.
Translate major scholarly periodicals and pertinent research papers.
Translate valuable Arabic books and research into foreign languages.
Translate into Arabic classical scientific works whose Arabic originals no longer exist.
Compile dictionaries for specialized terminologies in collaboration with academic departments and similar institutions.
Develop computer applications for translation and terminology.